Tributes flow for Australian Tamil doctor killed in car crash
Hundreds of Australians have paid tribute to Dr Nagaruban "Ruban" Armugam, a Tamil paediatrician tragically killed last week in a tragic road accident in Australia on 22 June. The 32-year-old Paediatrician was commemorated Monday at a moving funeral as tributes from politicians, colleagues, former patients and members of the community marked a week of mourning.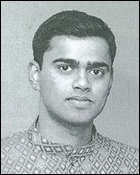 Armugan, described in the Daily Telegraph as a "genuine life saver", was killed whilst returning from a gruelling weekend shift where he had saved the life of a child at Dubbo Base Hospital, 5 hours away from his home in Sydney.
Politicians from all sides of Australian politics expressed their condolences, with National MP Mark Coulton highlighting the contribution that Dr Arumugam had made to the people of western New South Wales in parliament days after his death.
"I would like to acknowledge my sadness for his wife (…) parents, and his brother" Coulton added, describing in detail Ruban's efforts in saving a premature baby and diagnosing a child with leukaemia only hours before his car veered off the road in the rural town of Mudgee.
Doctor Rubans death has ignited national debate over the long hours faced by medical practitioners, with Parliamentary Secretary for Health Mark Butler saying the tragedy highlighted  the long hours, intense travel and dangers doctors faced in "helping others maintain their health and well being".
"He was extremely busy at Dubbo Hospital but despite the business and stress of the jobs, he was always a kind and humane person to his colleagues and his patients", said colleague Dr Nadanachandran at the funeral, sentiments echoed by dozens of former patients who called up the hospital and voiced their despair after hearing the news.
A champion for the rights of Tamils in Sri Lanka's North East, Ruban was described as an "inspirational figure" by the members of the youth Diaspora, who have labelled him a "role model of dedication and humanity".
Arriving from Sri Lanka in the early nineties, Arumugam graduated from the University of New South Wales in 2002, before completing his Paediatric residence at Westmead Children's Hospital in 2008. Ruban was on the last week of his secondment at Dubbo, and was known for his exceptional skills, compassion and modesty.
(For updates you can share with your friends, follow TNN on Facebook, Twitter and Google+)