Country needs 300,000 security personnel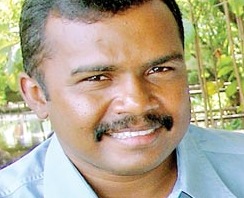 SLFP Vice President and National Integration and Reconciliation Minister Vinayagamurthi Muralitharan said that 600 former LTTE cadres from the east had already joined the security forces and several others were to join in the future. In an interview with The Sunday Leader, Muralitharan said the country needed 300,000 security forces personnel to ensure law and order in the country.
By Arthur Wamanan
Q. What is the current situation regarding some of the LTTE's former cadres who functioned under your leadership in the east joining the Police and Sri Lanka Army?
A. This process began a long time ago. The government agreed on this and around 600 of our members (former cadres) have already joined the police and security forces. There are more who would be joining in the future.
Q. You had said earlier that there were problems in your members joining the police and armed forces due to lack of proper identity documents. Have they been rectified?
A. Yes. There were such problems earlier. We have sorted that issue and therefore our members are in a position to join the security forces.
Q. Why is it necessary to increase the numbers of security forces personnel after the war?
A. The country's security still has to be safeguarded. The country requires a capacity of around 300,000 security force personnel to ensure law and order. That is what we are doing now. We are making sure that there are enough personnel to ensure the safety of the people and the country.
Q. Where will the newly recruited members be stationed? Will they be stationed only in the east or elsewhere too?
A. They will not be stationed in the east alone. It will depend on the requirements of the security forces.
Q. How are you currently working to enhance this government's policies in your former stronghold, the Eastern Province?
A. We are now working towards expanding the SLFP in the east. Many have joined the party and are continuing to do so.
(For updates you can share with your friends, follow TNN on Facebook, Twitter and Google+)