'Releasing' will take time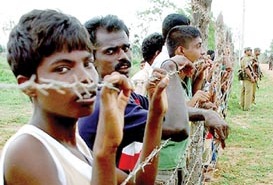 With the cessation of hostilities in the Wanni the focus has rightfully shifted to the plight of the internally displaced persons who are accommodated in temporary accommodation  in several secured camps located in the Wanni. There is no doubt that the living area is cramped and there is a shortage of sanitation and other facilities. In this context it is relevant that these same persons were held either willingly or unwillingly by the LTTE for a period of approximately six months when the forces were making a steady advance  into the LTTE held areas compelling the Tigers  to make a phased withdrawal with a bulk of the civilians estimated at 300,000 too retreating along with them.
In such circumstances, it is logical to assume that this mass scale movement of humanity would have been exposed to the elements day and night, come rain come sun. They also would have experienced an acute shortage of food, potable water and medicines. I am certainly not holding a brief for the living conditions in the present IDP camps but merely indicating that on a comparative basis they are by and large better off. Cognizance  must also be taken of the fact that they feel secure in the absence of any heavy or small arms fire either direct or indirect.
Return to original habitats
There is constant international and local media publicity that these persons should be permitted to return to their original abodes almost immediately. This certainly cannot be done until the areas are completely de mined. A basic principle of defence is that "ground that cannot be held must be denied to the enemy." This is attempted to be achieved in several ways such as defensive fire, inundation or mined. The Wanni being an arid area the possibility of inundation was virtually impossible. The only alternative was defensive fire and mining.
Defensive fire will also withdraw with the troops but certainly the mines will not be diffused nor lifted. When a conventional force lays a minefield, for tactical reasons  it has a map of the layout of the mines. Hence, for whatever reason if the minefield is to be cleared the task though dangerous can be carried out fairly expeditiously. It is doubtful that the LTTE would have mapped out  their minefields. Even if they did have such data I do not think such documents were recovered by our forces.
Hence, demining is a dangerous, painstaking and very slow task. In such a scenario, if the IDPs are permitted to return to their original dwellings before the demining job is completed there could be horrendous casualties for which the government will be blamed. In this context it is relevant that demining is confined not only to abodes and their immediate surroundings but also all cultivable and arable land because the livelihood of these people is basically agriculture and animal husbandry.
Avoiding a repeat
It is understood that there are approximately 300,000 men, women and children in the IDP camps. It is prudent to estimate that approximately 100,000 of them (male and female) will be in the age bracket 18 to 45 years. A fair proportion of these persons would have either voluntarily or through coercion been members of the LTTE carrying out a wide range of tasks that are common to any fighting force. Please note, that this war had gone on for 30 years – a 45 year old today would have been 15 years old when it started.
It is prudent to assume that some would have been brain washed to the extent to consider that "those from the south were incarnations of Satan." When the going became tough they would have abandoned their weapons, explosives and cyanide capsules and proceeded to the camps as IDPs. I am not advocating that all of them should be incarcerated. However, all must be carefully screened and gradually rehabilitated.
To digress a little, subsequent to the 1971 and 1987 JVP insurrections a large number of  militants were accommodated in rehabilitation camps and gradually released  to take their place in society. A moot point is that the LTTE militants are far more dangerous than the JVP of that era in that the JVP was not brain washed to the extent of the Tigers as most of them joined the organisation as young adults as opposed to the bulk of the Tigers who came into the fold as child soldiers and were thus, far more pliable.
The JVP did not have a diaspora abroad to support it, whereas the LTTE diaspora abroad is very articulate, economically sound and has cultivated sympathisers of standing in several developed countries. This diaspora has already declared a "transnational government" with the obvious objective of destabilising Sri Lanka and declaring a breakaway state of Eelam.
New threat
Within a fairly short period they will cultivate their counterparts in Sri Lanka with a view to achieving this objective. It must be borne in mind that the diaspora abroad will be quite ineffective and will in fact die out if there are no "noises" created by their counterparts in Sri Lanka. Realistically, this objective could only be met by reactivating the surrendered LTTE activists and their sympathisers to resort to covert guerilla type operations which obviously will necessitate a positive military response to neutralise the threat.
In such circumstances, propaganda alleging repression, harassment and violation of human rights will be vociferously made in some of the developed countries and even the relevant United Nations agencies. Thus, it is essential that the rehabilitation programme of the ex LTTE cadres who are identified is comprehensive to the extent that they will not return to their former ways.
Identifying these persons amongst the IDPs is not an easy task and is time consuming. Of course it is very relevant that the bulk of the 18 – 45 age group may not have any skills of significance by which they could earn a living. It is considered impracticable to assume  that most of these persons will either engage in fishing, agriculture or animal husbandry.
(For updates you can share with your friends, follow TNN on Facebook, Twitter and Google+)