Prabhakaran lives on in TN, through books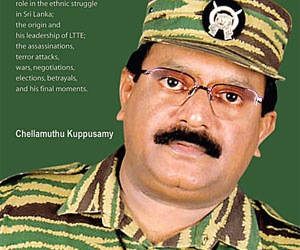 Hero for many, villain for others, the enigma of our times, Vellupillai Prabhakaran continues to haunt the social and political space in Tamil Nadu with recently written books on him and the LTTE flying off the shelves in bookstores now.
Several thousand copies of books on LTTE and Prabhakaran have been sold in the State in recent months, besides many works on the Tamil Eelam.
'Prabhakaran: Vaazhvum Maranamum (PVM),' in Tamil (Prabhakaran, Life and Death) authored by Pa.Raghavan has proved to be an instantaneous hit.
The book was launched just after the killing of Prabhakaran on May 29 and in about a month, the sale of the book has crossed 6,000 copies and the publishers have ordered a reprint of about 3,000 books.
Another book, 'Prabhakaran, Oru Vaazkai', (POV) also in Tamil (Prabhakaran, A Life) authored by Chellamuthu Kuppusamy that was published when the war between the Lankan government and the LTTE gained momentum about 7 months back, has sold more than 14,000 copies. An English version of the book will hit the stands this week.
Similarly, Viduthalai Puligal (VP), (The LTTE) by Marudhan that was first printed 18 months back has sold 15,000 copies.
Other titles on Tamil Eelam and the problems of Lankan Tamils are also racking up reasonable sales figures.
(For updates you can share with your friends, follow TNN on Facebook, Twitter and Google+)