Devotees to Nainaatheevu temple inconvenienced, delayed
Around a thousand devotees on their way Monday to attend the annual Thear (charriot) festival of Nainaatheevu Nakapoosha'ni Amman temple, a historically famous Saiva temple in the islets of Jaffna, had to undergo severe checking and undue delay at the Sri Lanka Navy (SLN) check post at Allaippiddi, sources in Jaffna said. Only around 50 ordinary boats were used by SLN to sail the devotees from Allaippiddi to the Nainaatheevu, the devotees said.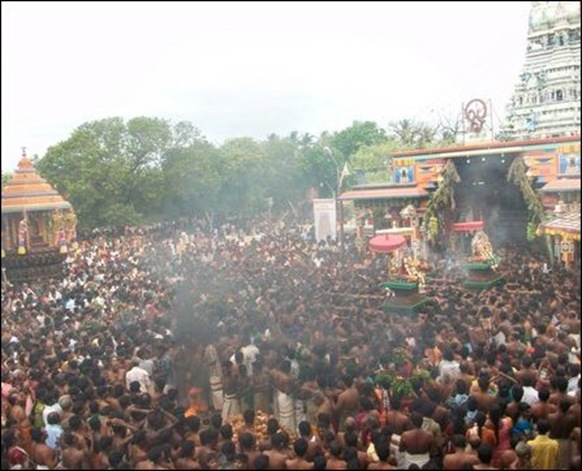 The devotees were made to alight from their vehicles at Allaippiddi SLN check post where their National Identity Cards were inspected besides undergoing body check.
They were again subjected to the same procedure of checking by SLN soldiers at Kurikadduvaan, causing further delay and inconvenience.
Meanwhile, the devotees were delayed for more than two hours as a group of government ministers were said to be sailed to the Buddhist shrine, Naakatheepam, in Nainaatheevu.
The ministers, however, had cancelled their visit after delaying thousands of devotees who were to worship in the annual chariot festival of Naakapoosha'ni Amman Temple.
SLN had strengthened security around the islets of Jaffna including Ninaatheevu with patrol boats to stop anyone trying to flee to Tamil Nadu.
The customary checking at Pa'n'ai Paalam SLN check point did not take place Monday due to the efforts of some powerful politicians in Jaffna, the sources said.
(For updates you can share with your friends, follow TNN on Facebook, Twitter and Google+)