Fishing restrictions in Jaffna will continue – Fisheries Minister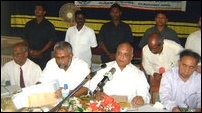 Sri Lanka Fisheries Minister and Aquatic Resources, Felix Perera, told representatives of the Fisheries Societies in Jaffna peninsula that the current restrictions on fishing in Jaffna lagoon and in the seas of the islets of Jaffna will not be lifted until new radars are installed between Mannaar and Poonakari, on being requested to lift the existing restrictions which continue even after President Mahinda Rajapakse's public announcement that 24 hours fishing is permitted in the North, sources in Jaffna said.
The Fisheries Minister, accompanied by high officials of his ministry met the representatives of Fisheries Societies at Veerasingam Hall in Jaffna Friday.
The representatives complained that fishermen are not allowed to use outboard motors in their boats and though it is said that 24 hour fishing is permitted in the North they are not allowed to go night fishing in Jaffna lagoon and the seas of the islets.
The minister, in response said that the present radars installed along the coasts of Jaffna are incapable of spotting small boats and new powerful radars are soon to be installed and thereafter he will refer the request to Defence Secretary to grant the necessary permission for night fishing.
All the ministers visiting Jaffna invariably place the responsibility of fulfilling the requests of Jaffna residents on the Secretary of Defence, civil society sources said.
Meanwhile, the Fisheries Minister said that Vadamaraadchi and Jaffna Fisheries Societies will be permitted to transport fish to Colombo in two cooler vehicles Saturday.
(For updates you can share with your friends, follow TNN on Facebook, Twitter and Google+)