Nayantara is bugged again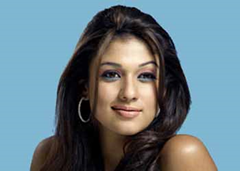 All the eyes of the media seem to be focusing on Nayantara and attacking her from all directions.
It was rumoured that because Nayantara's parents were afraid she would secretly wed the master (secrecy!), they had arranged for tight security around her. Another thing that is bothering her is the publicity of her tattoo on her arm that says Prabhu.
What does Nayantara have to say for that?
"Can't the press people sleep if they don't write about me? Everyone seems to be targeting me. I do not need to answer rumours in papers. There is no truth in the rumours about me. It pains me that the media is now dragging my parents into this. As far as cinema is concerned, I take my own decisions. My parents do not interfere in this. There is no truth in the rumour that my parents accompany me to sthe shooting spot," says Nayan.
One last question. What about the tattoo on your arm?
"Something done in eagerness should not be mistaken."
(For updates you can share with your friends, follow TNN on Facebook, Twitter and Google+)