Navy intercepts Sri Lankan asylum seekers – the age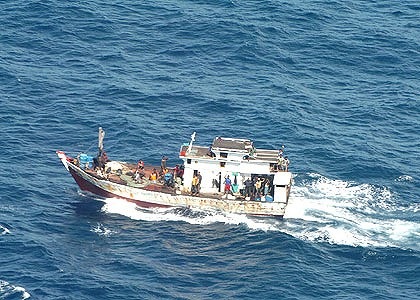 MANY women and children are among more than 70 Sri Lankan asylum seekers now on Christmas Island after they were picked up at sea on Saturday.
A fishing boat carrying the group was spotted by a Customs and Border Protection aircraft about 80 nautical miles from Christmas Island and was intercepted by the navy patrol boat HMAS Armidale.
It has been anticipated that many Sri Lankans would try to reach Australia and other countries after the fierce fighting on their home island in which government forces crushed the Tamil Tigers' insurgency.
Home Affairs Minister Brendan O'Connor said initial indications were that the boat carried 73 passengers.
Late yesterday morning the group was transferred to Christmas Island for security, identity and health checks and to establish why they had made the voyage.
Mr O'Connor said the boat's interception showed that the border protection system was working well.
Foreign Affairs Minister Stephen Smith said yesterday that all passengers on another boat, which sank on its way from Indonesia to Australia last week, were now known to be safe.
He said Australian police had spoken to two passengers who confirmed that all on board had been rescued.
Someone on the boat sent a text message to friends or family in Pakistan saying it was sinking.
The message was redirected to refugee advocate Ian Rintoul in Australia who alerted Australian and Indonesian authorities.
A search was launched in the Sape Strait, near Komodo, and the boat was found.
Mr Smith was initially told by the Indonesians that those on board were safe but he was contacted again and told that that had not been confirmed.
(For updates you can share with your friends, follow TNN on Facebook, Twitter and Google+)