Sri Lanka Central Bank Keeps Interest Rates Unchanged (Update2)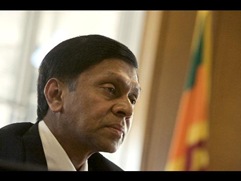 Sri Lanka kept its benchmark interest rates unchanged, waiting to see if three reductions in borrowing costs this year are enough to stoke an economic revival after the end of almost three decades of civil war.
The Central Bank of Sri Lanka held the reverse repurchase rate at 11 percent and maintained the repurchase rate at 8.5 percent, according to a statement on the Colombo-based bank's Web site today.
"The main reason for standing pat was that market interest rates have started showing a pronounced decline in response to all the easing undertaken by the Central Bank of Sri Lanka," said Prakriti Sofat, an economist at HSBC Holdings Plc in Singapore. "Further easing is looking less likely" as inflation accelerates.
Sri Lanka's $32 billion economy is expected to grow as much as 4.5 percent this year, up from an April forecast of 2.5 percent, as the government rebuilds after the war, Central Bank Governor Nivard Cabraal said July 1. Inflation is likely to "gradually pick up" from this month while staying below 10 percent in 2009, the central bank said today.
"The decision is for growth as the central bank wants cheap credit to be made available," said Bimanee Meepagala, an analyst at Eagle NDB Fund Management Co. in Colombo. "Going forward, there will be less opportunity for easing rates with inflation picking up."
'Moral-Suasion'
As inflation eased to a five-year low, Cabraal this year reduced the repurchase rate by 2 percentage points and cut the reverse repurchase rate from 12 percent to spur credit demand and consumer spending.
The central bank said today it expects financial institutions to continue reducing borrowing costs in response to monetary policy easing. The bank will use "moral-suasion" to encourage lending, Cabraal said June 17.
"The lower interest-rate regime would enable a rebounding of private-sector activity," helping the economy to "pick up" during the second half of 2009, according to today's statement. "The pressure on the exchange rate has also eased."
The Sri Lankan rupee has been little changed about 114.92 per dollar since June, after rising 4.3 percent in May with the end of the civil war.
The government declared victory over the Liberation Tigers of Tamil Eelam separatist rebels on May 16 after driving them from their northern stronghold and killing their chief Velupillai Prabhakaran.
(For updates you can share with your friends, follow TNN on Facebook, Twitter and Google+)