'No plan to send refugees to Lanka' – NewsToday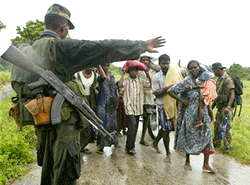 The Tamilnadu government today clarified that it had no intention of sending Tamil refugees back to Sri Lanka.
Replying to demands for grants for Public and Tamil Development departments at the Assembly on behalf of Chief Minister M Karunanidhi, Finance Minister K Anbazhagan said a doubt was raised in the House as to whether the refugees would be sent back to their nation.
'Neither the Centre nor the State has any intention to move out Tamils from the refugee camps. At the same time, we can not stop them if they willingly come forward to leave for Lanka,' he said.
Stating that the DMK government had sent two Ministers to inspect refugee camps as soon as it came to power in 2006, Anbazhagan said a lot of infrastructure, including buildings, toilets and bathrooms were constructed after the visit.
'Even houses were constructed in a few camps. The DMK government had even increased the amount spent for refugees from Rs 25.97 crore to Rs 55.48 crore,' he said.
The senior Minister said the State government, with help from the Centre, had been rendering all possible help to the ailing Tamils in the island nation.
'We have collected funds and helped them. Even the Union government has allotted Rs 500 crore. A medical team sent from India has treated about 15,000 Tamils so far. We have also sent rust-resistant iron plates to construct houses in north Lanka,' he said.
Stating that four expert teams were sent to remove land mines in the war-torn nation, the Minister said he was relating this just for the sake of information and not to claim that the government had healed the pains of the suffering Tamils.
'This is a democratic country. We have to respect the rules of the land. Hence we were only able to do the best possible. And we have no power to find a permanent solution to their problem.'
(For updates you can share with your friends, follow TNN on Facebook, Twitter and Google+)