Sri Lanka troops find Tiger submarine: military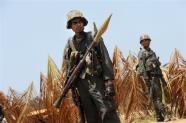 Sri Lankan troops have recovered a submarine-type craft built by Tamil Tiger guerrillas in an area where they fought their final battle two months ago, the military said Sunday.
The craft was found on Saturday submerged about 500 metres (yards) off the coast of Vellamullivaikal in the district of Mullaittivu, the army said in a statement.
"Based on information provided by an informant… the submersible was found and brought ashore with the help of army divers," the statement said.
Sri Lanka's navy has already begun investigations into the naval capability of the defeated Tamil Tiger rebels to establish how they acquired the technology and supplies, a military official said.
Several submersible devices had been found by the military in the run up to the final defeat of the Tamil Tigers on May 18 with the killing of the entire Tiger leadership at Vellamullivaikal.
The Tigers had a sea going unit known as the Sea Tigers and had sunk several naval craft as well as merchant ships off the island's northeast coast.
Last week, troops uncovered one of their biggest hauls of weapons and explosives since the defeat of the rebels.
Troops found 332 roadside bombs in Mullaittivu where Tamil Tiger supremo Velupillai Prabhakaran was killed. The bombs weighing more than a tonne constituted the largest haul of explosives found this year.
Sri Lanka's former army chief General Sarath Fonseka announced Wednesday that the government had scrapped a 200-million-dollar ammunition order from China after the defeat of the Tigers.
"We had ordered about 200 million dollars of heavy ammunition from China," Fonseka told local reporters after taking office as the new chief of defence staff. "There is no need for such ammunition any more."
(For updates you can share with your friends, follow TNN on Facebook, Twitter and Google+)