UN chief gets a raw deal? – straitstimes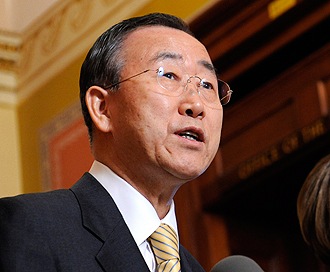 HIS critics berate him as ineffective, uninspiring and a poor communicator, but UN chief Ban Ki Moon's entourage says he is getting a raw deal from people who misunderstand him and his mission.
Half-way through his first five-year term, the UN secretary general has been subjected to a barrage of criticism, mainly in the Western media, over his handling of crises in Darfur, Sri Lanka and Myanmar.
In the latest swipe, The Wall Street Journal last week described him as 'the UN's invisible man.' The UN chief's most recent international mission – a trip to Myanmar – only served to fuel his critics.
Mr Ban lamented the fact that his hosts refused to let him see democracy icon Aung San Suu Kyi and ignored his call for the release of political prisoners, but his detractors saw it as an indictment of his quiet diplomatic style.
Roberta Cohen, a human rights expert at the Washington-based Brookings Institution, said Mr Ban is 'overly deferential' to governments.
She said the UN head has preferred to bow to the mandates of the five permanent members of the UN Security Council – Britain, China, France, Russia and the United States – 'rather than try to lead the world community in defence of the international protection of civilians,' she said.
'As the head of the UN, Ban Ki Moon must also be the chief advocate for its values and principles including those values enshrined in the Universal Declaration of Human Rights,' said Iain Levine, a spokesman at New York-based Human Rights Watch.
'Too often – including in Sri Lanka and Burma – the secretary general has held back from a truly principled stance. He must remember that his primary obligation and loyalty is not to member states – especially abusive ones – but to those whose rights are so often violated,' Mr Levine said.
Abiodun Williams, a former UN policy-maker now with the Washington-based think tank United States Institute of Peace concedes that Mr Ban, a 65-year-old South Korean former foreign minister, is playing an important role on issues such as climate change.
'The capacity to communicate is one of the qualities required for the job,' Mr Williams said. 'Action may speak louder than words, but words do matter and clearly the message is not getting through effectively enough about the significant role the UN is playing in many areas: peacekeeping, humanitarian work, refugee relief.'
(For updates you can share with your friends, follow TNN on Facebook, Twitter and Google+)