'State terror' in local elections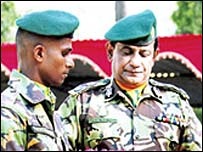 Police authorities in northern Sri Lanka have rejected accusations by opposition parties that the government is terrorising the region in the run up to Vavuniya Urban Council elections.
The main opposition, United National Party (UNP), says party's organisers are continuously threatened and intimidated by pro-government supporters.
UNP Vanni district organiser PA Karunadasa told BBC Sandeshaya that people travelling in motor bicycles without number plates prevented their supporters from canvassing.
"We know that thugs have arrived in Vavuniya with government ministers. It is state terrorism. We are urging the police to stop this," he said.
Ministers 'with thugs'
The police, however, denied the accusation.
"There is no state terrorism here. We can't accept that accusation," said Nimal Lewke, the Senior Deputy Inspector General (DIG) in charge of the Northern Province.
Elections for the Vavuniya UC and Jaffna Municipal Council are scheduled to be held on 08 August.
In Vavuniya, 24626 voters are registered to elect 11 councillors.
DIG Lewke says the police won't allow anybody, apart from the police and military, to carry arms in the north.
But it differs from the ground reality, according to UNP regional leaders.
"Although nobody carries weapons during the day, our supporters regularly are threatened with death and intimidated at nights," says PA Karunadasa.
"Please do not use media for undue accusations," responds the senior police official.
DIG Lewke urges those affected to lodge complaints with the police, instead.
However the political activists say they are reluctant to make complaints. "We are afraid to make complaints to the police and give our details. We do not know what will happen to us as a consequence."
(For updates you can share with your friends, follow TNN on Facebook, Twitter and Google+)