Tamil Tiger leader vows to abandon armed struggle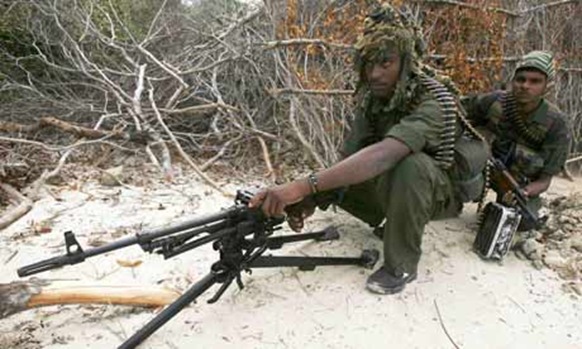 The newly appointed leader of Sri Lanka's defeated Tamil Tiger rebels has pledged to turn the insurgent group into a non-violent separatist movement.
Selvarasa Pathmanathan was previously the movement's head of international relations and allegedly ran an international weapons smuggling ring. The Sri Lankan government has appealed to foreign governments to find and arrest him.
Pathmanathan "will lead us into the next steps of our freedom struggle according to the vision of our esteemed leader", the Tiger's executive committee said in a statement released on Tuesday.
Pathmanathan replaces Velupillai Prabhakaran, who led the Tigers for decades until he was shot dead by Sri Lankan forces while trying to flee in May.
According to the statement, Pathmanathan said the Tigers would abandon their armed struggle and use non-violence to achieve their goals. He promised the group would reorganise itself on democratic principles — a major change from Prabhakaran's dictatorial leadership style.
The defeated Tigers said they had set up a head office and an executive committee in their campaign for an independent homeland for ethnic minority Tamils, who claim they are marginalised and mistreated by Sri Lanka's majority Sinhalese.
The government declared in May that its forces had crushed the Liberation Tigers of Tamil Eelam (LTTE), ending a civil war that began in 1983.
The rebels once controlled a parallel state across northern Sri Lanka backed by thousands of guerrilla fighters, a navy and even a nascent air force. In the final days of the battle, the military killed much of the senior Tiger leadership, including Prabhakaran.
It was not immediately clear whether Pathmanathan would get the support of an estimated 800,000 Tamil expatriates living in Britain, Canada, Australia and other countries. Signs have emerged that the Tamil diaspora is divided over whom to support. The TamilNet website, seen as a mouthpiece for the rebels, has refused to carry statements from Pathmanathan.
Reports have surfaced that many Tamils are furious with Pathmanathan for quickly acknowledging Prabhakaran's death while others refused to believe the rebel chief had been killed.
(For updates you can share with your friends, follow TNN on Facebook, Twitter and Google+)