IMF lends $2.5bn to Sri Lanka despite concerns for Tamil refugees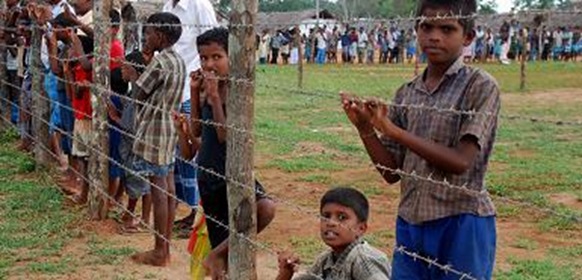 The International Monetary Fund is expected to approve a controversial $2.5 billion (£1.5 billion) loan to Sri Lanka today, despite concerns over the treatment of the Tamil minority.
Dominique Strauss-Kahn, the managing director of the IMF, said this week that the organisation had agreed the terms of the deal with the Sri Lankan Government after four months of talks.
The move comes two months after the army crushed the Tamil Tiger rebels, ending a 26-year civil war that had weighed heavily on the nation's economy and claimed at least 70,000 lives.
The loan — desperately needed by Sri Lanka to stave off a looming balance of payments crisis — was delayed initially by Britain and the US in an attempt to force a ceasefire, which would have allowed hundreds of thousands of civilians to escape the battle zone during the brutal climax of the conflict in May.
The IMF's imminent decision to proceed has angered human rights groups, who say it is turning a blind eye to the continuing humanitarian crisis.
They accuse Sri Lanka of breaking international laws by detaining nearly 300,000 refugees, mostly Tamils, who were forced to flee their homes and are still being held in internment camps.
The Government has restricted severely access to the camps to aid agencies, the media and independent monitors.
Testimonies smuggled out to The Times in May described shortages of food and medical supplies. Aid agencies say conditions are now stabilising, but people are still being held against their will.
"To approve a loan while they have hundreds of thousands of people penned up in these camps is a reward for bad behaviour, not an incentive to improve," said Brad Adams, Asia director at Human Rights Watch. "The IMF needs to change its approach."
The loan, which Mr Strauss-Kahn said would give an "exceptional level of access to resources" will be used to shore up Sri Lanka's finances, which have been battered by the global credit crisis and an increase in military spending to $1.5 billion last year and a projected $1.6 billion this year.
In March, when Sri Lanka applied for the loan, its foreign currency reserves had dropped to $1.4 billion — enough for about six weeks' worth of imports — from $3.4 billion in September.
At that time, Mahinda Rajapaksa, the Sri Lankan President, vowed that he would not accept any conditions from the IMF, whose officials were expelled from the country in 2004.
"We will not pawn or sell our motherland to obtain any monetary aid," he said.
The IMF's conditions will, however, require the reconstruction of areas devastated by years of conflict, Mr Strauss-Kahn has indicated.
Controls on military spending — which will amount to about 17 per cent of Sri Lanka's total expenditure this year — are also likely to be one of the IMF's conditions.
A British Government source said yesterday that Britain would "look to see that military expenditure falls appropriately over the course of the programme, facilitating greater spending on social programmes and reconstruction".
Britain was also calling for money to be earmarked for the wellbeing of the camp refugees, the source said.
Sri Lanka has made some cuts in arms procurement, cancelling deals worth $200 million to buy ammunition from Pakistan and China this month. Its huge army continues to grow, however, even though the war is over.
Brigadier Udaya Nanayakkara, a military spokesman, told The Times that between 15,000 and 20,000 soldiers had been added to its ranks in the past two months, taking the number of battle-ready troops to about 200,000. He said there were no plans to reduce the force.
Britain holds 5 per cent of the votes on the IMF executive board, which will discuss the loan today. The body has the power to block the deal, which needs 51 per cent of the votes to pass, but is thought unlikely to do so — largely because the IMF and many foreign investors believe Sri Lanka can reap a substantial peace dividend now the war is over.
Sri Lanka's stock market closed at its highest level for more than a year on Wednesday on news of the imminent IMF deal.
(For updates you can share with your friends, follow TNN on Facebook, Twitter and Google+)