Allow IDPs return home – France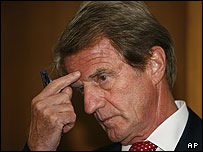 The French foreign ministry says the recently-approved $2.6 billion dollar IMF loan to Sri Lanka should be used to improve the plight of civilians severely affected by conflict.
The French reiterated that displaced people should be allowed to return to their homes and humanitarian agencies should have unhindered access to them.
On Friday, the IMF gave final approval to the loan, despite objections from human rights groups and some countries, including France, Britain and the United States.
The UK government earlier said it was "not the right time for the programme".
Now that the loan has passed, British Financial Secretary Stephen Timms said the UK would turn its attention to monitoring developments on the ground.
"We expect the government of Sri Lanka's commitment to reduce defence spending whilst safeguarding spending on humanitarian assistance and [the resettlement of displaced people] to be implemented in full," he told the PA news agency.
'Time for reconciliation'
The New York-based organisation Human Rights Watch has voiced concern that Colombo is holding nearly 300,000 people displaced by the fighting against Tamil Tiger rebels.
The group's Asia director, Brad Adams, has also criticised the IMF decision to grant the loan.
"To approve a loan, especially $600 million more than the government even asked for, while they have hundreds of thousands of people penned up in these camps is a reward for bad behavior, not an incentive to improve," he said.
Sri Lanka government says the money will be used to start the country's "healing process".
Sri Lanka's Enterprise Minister, Anura Priyadarshana Yapa, said the money would pay for post-war reconstruction work in the north and east of the island – areas previously controlled by the rebels.
The loan comes two months after the government crushed the Tamil Tiger rebels, ending Sri Lanka's bitter 37-year civil war.
The conflict has claimed up to 100,000 lives and left some 300,000 civilians displaced in the north of the country.
(For updates you can share with your friends, follow TNN on Facebook, Twitter and Google+)