IMF Won't Detail Sri Lanka Vote Or Release MoU, Spins Only to Colombo Despite Press Exclusions
While the International Monetary Fund speaks of its transparency, and the government of Sri Lanka brags about releasing its Letter of Intent to the IMF, the Technical Memorandum of Understanding for the IMF's contested $2.6 billion loan to the Rajapakse regime is still being withheld, and the IMF won't even confirm that the abstention of the UK, France, Germany, Argentina and U.S. from Friday's vote on the loan.
Inner City Press asked IMF spokesman William Murray to "state which countries abstained or vote against the $2.6 billion loan to Sri Lanka on Friday, or to explain why such basic information on voting on a loan of this size is not routinely made public."
The IMF's Murray replied, "On Board votes, it is their policy to refrain from formally disclosing specific votes." What kind of transparency is this?
Inner City Press also asked Mr. Murray, "how were reporters who cover the IMF and/or the loan to Sri Lanka informed about the conference call with [head of IMF mission to Sri Lanka] Brian Aitken?"
Murray replied that "that was a briefing with reporters in Colombo."
At three IMF press briefings this year, Inner City Press has asked about Sri Lanka's application for a $1.9 billion loans. In March, asking in person in the IMF's briefing room, Inner City Press was told that conditions were being negotiated by the IMF's mission to Sri Lanka. After that briefing, Inner City Press was approached by IMF communications staffer Yoshiko Kamata, who committed to keep Inner City Press informed.
At two subsequent IMF briefing, the IMF's Caroline Atkinson told Inner City Press that the loan was only for the Central Bank, and that international views would be considered. Then the loan was approved, Mr. Murray declined to confirmed which countries abstained, and Ms. Kamata set up a media conference call in Washington DC about the loan without informing or inviting Inner City Press.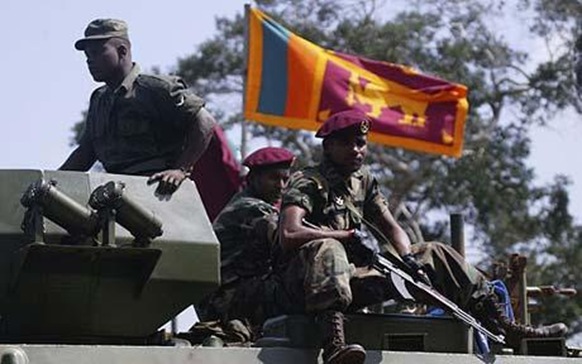 Sri Lanka troops –  IMF loan, dead journalists and TMoU not shown
It's reported that the UK, France, Germany, Argentina and the United States abstained on the Sri Lanka loan. While the IMF now refuses to confirm this, sources remind Inner City Press of the irony that, during the Malvinas / Falklands Islands contoversy, an IMF loan to Argentina was opposed by a "gang of four" of the UK backed up by Oman, Belize and ironically Sri Lanka, in quid pro quo for a development project loan from Margaret Thatcher…
On July 27, Mr. Murray told Inner City Press that the media call with IMF mission chief Brian Aitkens was limited to reporters in Colombo. But as Journalists for Democracy in Sri Lanka reported this week, 34 journalists have been killed during the Rajapakses' reign, and "during the same period, intimidations and threats against journalists and media increased unabated. This situation resulted in more than 50 journalists leaving Sri Lanka fearing persecution: Austria 1; Australia 3; Canada 3; Denmark 1; France 12; Germany 4; India 5; Malaysia 1; Netherlands 2; Nepal 2; Norway 2; Switzerland 16; UK 10; USA 2."
In this context, it is telling that the IMF would try to limit its explanation of its loan to Sri Lanka to those journalists not expelled from Colombo. In memoriam, and for the IMF's belated information, here in the JDSL's list of the journalists who've been killed:
RECORDED LIST OF KILLINGS OF JOURNALISTS AND MEDIA WORKERS
APRIL 2004 – MARCH 2009
2004
1. Aiyathurai A. Nadesan – Journalist / 31 May
2. Kandaswamy Aiyer Balanadaraj – Writer / 16 August
3. Lanka Jayasundera – Photo journalist / 11 December
2005
4. Dharmaratnam Sivaram – Editor / 28 April
5. Kannamuttu Arsakumar – Media worker/ 29 June
6. Relangee Selvarajah – Journalist / 12 August
7. D. Selvaratnam – Media worker/ 29 August
8. Yogakumar Krishnapillai – Media Worker / 30 September
9. L. M. Faleel (Netpittimunai Faleel) – Writer / 02 December
10. K. Navaratnam – Media worker / 22 December
2006
11. Subramaniam Suhirtharajan – Journalist / 24 January
12. S. T. Gananathan – Owner / 01 February
13. Bastian George Sagayathas – Media worker / 03 May
14. Rajaratnam Ranjith Kumar – Media worker / 03 May
15. Sampath Lakmal de Silva – Journalist / 02 July
16. Mariadasan Manojanraj – Media worker / 01 August
17. Pathmanathan Vismananthan – Singer and musician / 02 August
18. Sathasivam Baskaran – Media worker / 15 August
19. Sinnathamby Sivamaharajah – Media owner / 20 August
2007
20. S. Raveendran – Media worker / 12 February
21. Subramaniam Ramachandran – Media personnel / 15 February
22. Chandrabose Suthakar – Journalist / 16 April
23. Selvarasah Rajeevarman – Journalist / 29 April
24. Sahadevan Neelakshan – Journalist / 01 August
25. Anthonypillai Sherin Siththiranjan – Media worker / 05 November
26. Vadivel Nimalarajah – Media worker / 17 November
27. Isaivizhi Chempian (Subhajini) – Media worker / 27 November
28. Suresh Limbiyo – Media worker / 27 November
29. T. Tharmalingam – Media worker / 27 November
2008
30. Paranirupesingham Devakumar – Journalist / 28 May
31. Rasmi Mohamad – Journalist / 06 October
2009
32. Lasanntha Wickrematunga – Editor / 08 January
33. Punniyamurthy Sathyamurthy – Journalist / 12 February
34. Sasi Mathan – Media worker / 06 March
Rest in peace.
(For updates you can share with your friends, follow TNN on Facebook, Twitter and Google+)