TNA accuses government of using state resources in JMC election campaign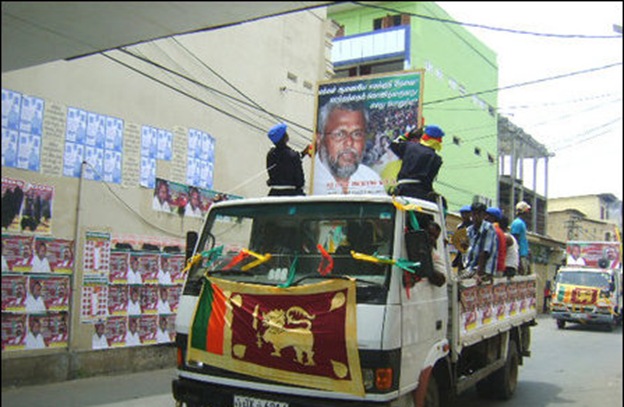 Ruling United People's Freedom Alliance (UPFA) conducted Sunday a large scale procession of vehicles organized by Eelam People's Democratic Party (EPDP) in Jaffna town in which more than a thousand supporters participated, canvassing people to vote for the Betel symbol of UPFA, sources in Jaffna said. Meanwhile, Tamil National Alliance (TNA) which has also entered into the fray, accused UPFA and its ally EPDP of using government vehicles for election campaign. TNA also accused the police for being partial to UPFA in carrying out duties related to Jaffna Municipal Council (JMC) election, the sources added.
While the government continues to bring down cabinet ministers from Colombo to campaign for UPFA in Jaffna, most of TNA parliamentarians are in Jaffna holding small scale meetings besides being engaged in house to house campaign.
Tamil United Liberation Front (TULF) too is busy canvassing votes, though in a small measure.
The plight of the Vanni IDPS suffering in the Sri Lanka Army (SLA) internment camps in Vavuniyaa, however, was not given due attention or mentioned in the campaign meetings of all the contesting parties in JMC election, civil society sources in Jaffna observed.
Ministers of Education and Health will be soon visiting Jaffna to canvas for the UPFA and President Mahinda Rajapakse will be in Jaffna just before the election, according to announcements made in the media.
Large banners of EPDP and prominent wall posters are displayed in Jaffna town.
Suresh Premachandran, Gajendrakumar Ponnambalam, Mavai Senathirajah, Sri Kantha and Pathmini Sithamparanathan are some of the TNA parliamentarians engaged in election campaign in Jaffna.
(For updates you can share with your friends, follow TNN on Facebook, Twitter and Google+)