US 'deeply concerned' by Sri Lanka's camps, wants resettlement
A top United States official Monday visited the most presentable of the squalid, militarized camps in which Sri Lanka has interned three hundred thousand Tamils. "The United States remains deeply concerned about a range of issues where further progress is essential," Assistant Secretary of State for Population, Refugees and Migration from the US State Department Eric P. Schwartz said. "In particular, the vast majority of displaced persons remain confined to camps, and my visit to Manik Farm and my conversations with displaced persons underscored for me the hardships they are enduring," he said.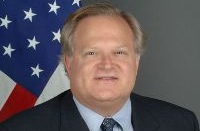 "The continuing support of the US government will be reliant on the means in which the humanitarian situation in Sri Lanka is addressed," Mr. Schwartz was quoted by the Daily Mirror as telling reporters..
"Inclusive reconciliation is among one of the top priorities for high-level bilateral dialogue between Sri Lanka and the US. This process of inclusive reconciliation is important for all of Sri Lanka's friends", he said
"There remain burdensome limitations on access to those camps for those international humanitarian organizations and others who are in a position to ameliorate the conditions faced by these victims of conflict," he said.
"There is a dearth of information within these camps. There need to be better provision of information," he also said.
Mr. Schwartz said Sri Lanka's President Mahinda Rajapaksa and other top officials have assured him of "significant and substantial returns" of displaced people to their homes over the next month.
The Associated Press quoted him as saying the Sri Lankan government had invited him back to observe the process of return and recovery.
He hoped to do so, Mr. Schwartz added.
Interestingly, The Hindu newspaper in India reported Mr. Schwarts' visit by reproducing a rosy Sri Lankan government statement and adding the headline "US hails [Sri Lanka's] efforts for war displaced."
Meanwhile, the Director of US AID Sri Lanka, Rebecca Cohn, announced a donation of an $8 million and the provision of nearly 30 million food aid to the World Food Programme.
"The funding we have announced this evening will support international organizations, such as UNHCR, as well as NGOs who are longstanding partners in Sri Lanka," she said.
The aid would be used to improve the living conditions, restore the livelihoods and facilitate the early return of the displaced persons, she said.
"In order to restore livelihoods, the US Government will provide necessities such as nets and small boats for fishermen, and tools and seeds for farmers. We will also give grants to help people start small businesses," Cohn said.
(For updates you can share with your friends, follow TNN on Facebook, Twitter and Google+)