Northern polls: "Forgotten people" to the fore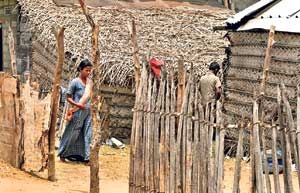 The area around Puttalam is plastered with election posters and billboards of ministers and politicians, but hardly anyone at camps housing Muslim refugees from the north glance at the 'smiling' pictures of either Ministers Rishad Bathiudeen or Douglas Devananda.
The August 8 polls to the Jaffna and Vavuniya local councils, touted as a crucial test of popularity for various Tamil political parties after the end of the war, is the least of worries for the 75,000-plus refugees now generally considered 'Sri Lanka's forgotten people'.
To 56-year-old Mohamed Yusuf Yakoob and hundreds of others, their attention is focused more on waiting for the green-light to be given by authorities to return to their lands across the north, from which the LTTE forced them to leave in 1990.
"I will never forget that day – October 30, 1990. All Muslims in Jaffna were asked to come to the Jinnah ground and ordered to vacate the town within two hours," said the former beef-stall owner seated in his bare cadjan-thatched house, reflecting on the LTTE's 'ethnic cleansing' drive in 1990.
Mohamed Yusuf Yakoob
Like Yakoob, thousands of fellow Muslims have lived in temporary shelters in Puttalam for the past 19 years and yearn to go back and 'be free'. "Not many have fought for us" said Yakoob, referring to recent world attention on the plight of Tamil residents displaced by the recent fighting in the north.
The US, UK, France and Germany abstained in last week's vote on the IMF loan to Sri Lanka, as a mark of protest over the government's alleged failure to prevent civilian casualties in the fighting and poor conditions at refugee or IDP camps.
As we drive past at least three km of temporary houses on the Puttalam-Mannar road, lines of female workers carry baskets of salt on the opposite lagoon-side of the salterns. Most of these workers are from the camps.
Residents from Jaffna are eligible to vote as they have done in the past 19 years at temporary polling booths in the camps. But like most Sri Lankans some are skeptical of the politicians and their promises.
There is an allegation Mr. Bathiudeen, himself a refugee from Mannar, favours the displaced from Mannar against those from Jaffna, Killinochchi and Mullaitivu. This is substantiated by refugees from Mannar who say the Minister has looked after them.
"The Minister came and promised to give us houses, but we believe this is an election stunt," said Badurdeen Naseera, from Jaffna. The 48 year-old's, husband owned a shop with the family living a comfortable life. They trudged for days through shrub jungle while she was pregnant with their third child, who was born 17 days after reaching Puttalam.
"We want to go back, but we are also scared. Will the war start all over again?" she asked a question that was on the lips of many of the displaced. Naseera was reluctant to allow pictures of her cooking for family meal-time. "Please don't," she says, embarrassed to show the frugal meal of a family that once ate and lived well, but had now to depend on hand-outs.
Most of the displaced are desperate to return to their former comfortable lifestyles rather than work as labourers, roti and parata makers in small tea shops to eke out a living. Many owned shops or small businesses in the north. Naseera's children were at home when the Sunday Times team visited the camps. Asked why they were not in school, she said: "We don't have money to pay exam fees."
However among the younger generation, many of whom have been born in these IDP camps, there is an understandable reluctance to return to their family roots. Ms. Abdulsalam Vajiha, a social worker, says she doesn't want to go back. "My children have been born here. There is nothing for them in Jaffna. Maybe our parents will return but not us," said the 37 year-old mother of three, whose husband is a tailor.
What gets Vajiha's attention in recent years is the lack of attention paid to children, particularly in female-headed households. "There is a huge social problem and a lot of anti-social activity like alcoholism, drugs and sex abuse taking place," she says, adding that counselling is a desperate need for the community. "Women try to hide these problems and pretend their children are okay, but that's not going to solve anything."
Mannar resident Meeramohideen Rasool, believes his prayers have been answered with the end of the conflict. "That has been my eternal prayer everyday – that the war ends and the country returns to peace," the former rice farmer who left behind a house, goats, chicken and cattle among other valuables said.
The 50-year-old now works as a labourer and lives on dry rations. He too wants to return saying -"I will never forget till I die – the day we were ordered to leave by the LTTE."
Post office employee Mohamed Fayas, also a volunteer at the local office of the Consortium of Humanitarian Agencies (CHA), was just six years when his family left Mannar. "I can't remember much but if my parents are returning to Mannar I will join them and try and get a government job there" the 25-year-old said.
(For updates you can share with your friends, follow TNN on Facebook, Twitter and Google+)