SLA interference in Jaffna civil administration will be stopped – SL Minister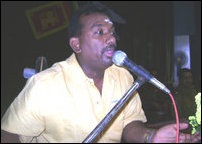 Sri Lanka Minister of Power and Energy, Aluthananda Gamage, said in Jaffna Sunday that the interference of Sri Lanka Army (SLA) in Jaffna civil administration will be brought to a stop when 500 Tamil policemen selected in Jaffna district are appointed. The minister said that the newly appointed policemen will be engaged in the civil administration in Jaffna.
The minister made the above announcement in the meeting with police officials and representatives of civil society organizations in Jaffna to discuss problems related to the civil administration in Jaffna.
"At present only Sinhalese police personnel are engaged in Jaffna district but we will soon appoint 500 Tamils from Jaffna district as policemen and once they are appointed the SLA will be withdrawn from civil administration," the minister said.
This is the first instance a minister publicly admits SLA interference in the civil administration in Jaffna, civil society sources in Jaffna said.
Meanwhile, the Tamil National Alliance (TNA) parliamentarians dismissed this announcement as another election campaign gimmick and a promise that will never be kept.
It has been alleged long that the SLA interferes in civil administration since its occupation of Jaffna district in 1996.
Aluthananda Gamage and Reginald Cooray, former chief minister of Western Provincial Council, are in Jaffna actively engaged in election campaign for the Sri Lanka Freedom Party (SLFP).
(For updates you can share with your friends, follow TNN on Facebook, Twitter and Google+)