3112 Vanni IDPs in Jaffna camps released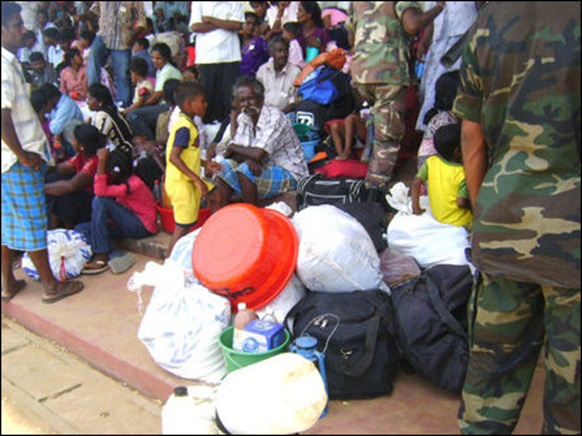 3112 persons belonging to 1057 families brought from Vanni and held in the six detainment centres in Jaffna district were released and allowed to go with their relatives Wednesday in an event which the government conducted as an election campaign stunt in Duraiyappa Sports Stadium in Jaffna, sources in Jaffna said. The IDPs, brought to the venue from 3:00 a.m from their camps, had to wait in the broiling sun until 3:30 p.m as Basil Rajapakse, the brother of President Mahinda Rajapakse and his advisor, arrived at Jaffna only after 2:30 p.m to take part in the event, the sources added.
Northern Province Governor, Major Gen. G. A. Chandrasiri and Minister Douglas Devananda were present at the event.
"Persons who have brains do not have power and those in power do not have brains. The Tamil National Alliance (TNA) and United National Party (UNP) persons have neither brains nor power. Douglas Devananda has both and that is why he had fought until the last to free you people", Basil Rajapakse told to the IDPs.
Meanwhile, the Chief Candidate of Sri Lanka Freedom Party (SLFP), Ratneswaran, contesting Jaffna Municipal Council (JMC) election, said in a press release Wednesday that the IDPs are being released because of his own efforts.
The IDPs, however, complained that they were loaded into buses at 3:00 a.m and made to wait in the open in hot sun with their children without any food or water until 3:30 p.m.
IDPs who were permanent residents of Jaffna district and had gone to Vanni were the persons released Wednesday.
They are from places in Jaffna district where there are no Sri Lanka Army (SLA) High Security Zones (HSZs), including Vadamaraadchi East.
The Divisional Secretaries will take charge of the IDPs and take them to government buildings in their areas where they will be handed over to their relatives in the presence of SLA, the sources said.
TamilNet: 05.08.09 3112 Vanni IDPs in Jaffna camps released
(For updates you can share with your friends, follow TNN on Facebook, Twitter and Google+)