Seeman offered a post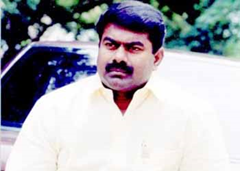 Seeman is finally taking rest from his waves of speeches. Everyone knows why.
What next?
He is engrossed in film work. He is supposed to direct Ajith in a film produced by Kalaipuli Thanu. But there is no confirmation yet from the producer's side.
For bravely voicing his support for the Eelam Tamils, Seeman has earned the gratitude of Tamils worldwide. They want to return the favor to one who has braved all odds with his fiery outbursts. He is flooded with offers from those who want to produce any film that he would like to make. But only Seeman knows what he wants to do.
Amidst all this, a post has been offered to Seeman, that is head of the Tamilnadu Kick Boxing Federation. In what way is Seeman suitable? He is well versed in self defense martial arts like karate, silambam and so on. That's why he accepted the post.
(For updates you can share with your friends, follow TNN on Facebook, Twitter and Google+)