Sri Lanka: MSF Ready to Help Fill Huge Gaps in Medical Services – Doctors Without Borders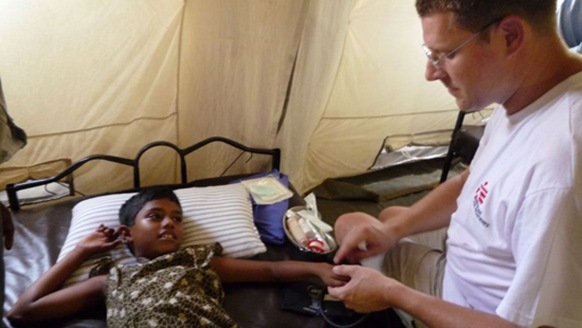 Any health system would have difficulties responding to the needs of over 260,000 people who recently came out of a war zone. Facilities in the Sri Lankan camps for internally displaced people (IDPs) are overstretched. People sometimes wait days before they can see a doctor for treatment. At night, non-medical people decide who gets referred to a hospital and who doesn't. Although the war has ended, suffering for Sri Lankans continues.
For the past three months, Ati* has been living in a camp in Manik Farm with her husband and three children. Two weeks ago, her five-year-old son had a fever and was barely responding. She carried him to the clinic in the camp at 5 a.m. and waited to see a doctor until 6 p.m. Like many others that day, she did not get to see a doctor and returned to her tent with her sick child and no treatment. She went back the next day and again failed to see a doctor after waiting for another 13 hours. It wasn't until the third day that she finally managed to see a doctor who gave her some antibiotics.
300 patients a day
Even though medical services are gradually expanding in those camps with Ministry of Health clinics, and medical staff doing what they can in all the camps, the needs remain vast and facilities are overstretched. Some doctors are seeing 200 to 300 patients a day; there is little capacity to carry out tests or follow up with patients; and only the most urgent cases get transferred to hospitals outside the camps.
Maruthani,* a 24-year-old woman, arrived in Manik Farm at the end of May. She is badly disfigured from a bomb shell fragment that cut her lips, cheeks, and chin during the conflict. Her mouth is always open, and her tongue is badly affected; she can barely drink and cannot speak. She is in need of reconstructive surgery—something impossible to get inside the camp. When her wounds became infected, she went, in pain, to the clinic in the camp. There they were unable to do anything for her and she was not transferred to a hospital outside the camp because she was not considered to be an emergency case. She spends her days lying in the sand outside her tent, waiting for the day to pass.
Some emergency cases are referred by the Ministry of Health staff to the MSF hospital outside Manik Farm, where MSF medical teams are mostly treating patients for conflict-related trauma, respiratory tract infections and skin diseases. Problems come at night. "In many camps, if someone gets sick at night, they have to rely on the soldier at the camp gate to make the decision on whether they get referred to a hospital or not," said Karline Kleijer, MSF emergency coordinator. "This works for those who are obviously ill, in convulsions, or with a bleeding wound. But when it is a dehydrated child with a fever, the average soldier will not see that they are in urgent need of medical attention because they are not easy things to diagnose."
Breakfast at night
Another concern for those in the camps is access to clean water and food. In most camps, people do not cook for themselves but rely on community kitchens and rations distributed daily by the government or NGOs. "Sometimes, especially in the newer camps, the food doesn't get delivered until late in the evening and the first meal of the day is at 10 o'clock at night," said an MSF aid worker. Every day, MSF distributes high-energy porridge to 23,000 children under five, pregnant and lactating women, and people over 60 in 11 of the camps. "It is difficult for our staff to turn people away when they do not fit into our target group," she said.
Outside of the camps, hundreds of people are still hospitalized, receiving treatment for injuries they incurred during the conflict. Working with Ministry of Health staff in Pompaimadhu hospital, MSF is treating 180 patients with spinal cord injuries, fractures that did not heal, and infected wounds. The MSF surgeon does an average of 16 to 20 surgeries a week and physiotherapy is a big component of the program. "To see someone walk again thanks to the physiotherapy is amazing," said MSF surgeon Tim Pruchnic.
Traumatized with no support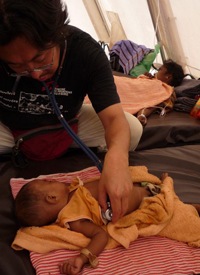 Traumatized by what they experienced during the conflict, many of the patients in hospital are struggling to cope with their grief and worry about their future and the fate of their loved ones. "A young mother admitted to Pompaimadhu hospital has lost her husband, her parents, her sister, her sister's husband and children," said an MSF worker. "She is alone now in the hospital, recovering from her injuries; she is the sole survivor of her family and she is pregnant. She feels very lonely and is still in shock. It has only been two-and-a-half months since she lost everything and everyone. She worries about how she will cope as a single mother. As long as she stays in Pompaimadhu, she can get help, but when she is discharged to the camps she will no longer get any support."
In the camps, people are dealing with the trauma they experienced during the conflict, and it is difficult to rebuild any semblance of a normal life. There are very few job opportunities inside the camps. People are not allowed to leave the camps, and parents worry about their children's education. People have difficulties searching for relatives, making plans, or taking control of their futures. With nowhere to go, there is little to do other than walk from one distribution to another. The uncertainty of how long they have to remain in the camps is difficult to live with. Therefore, there is a huge need for psychological support for people living in the camps and currently none is provided.
MSF ready to start
In addition to the high-energy porridge the MSF teams cook and distribute in the camps, MSF has the capacity to scale up activities and provide medical support to the Ministry of Health staff inside the camps. "We have two whiteboards in our office," said Kleijer, the MSF emergency coordinator. "One with a list of planned activities for the coming weeks—supplementary feeding, surgery, etc. And another is a list of activities waiting for approval, including mental health, basic health care, and physiotherapy in the camps. We are ready to start!"
(For updates you can share with your friends, follow TNN on Facebook, Twitter and Google+)