Sri Lanka slammed over polls media blackout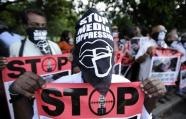 Global press freedom group Reporters Without Borders voiced outrage Thursday over Sri Lanka's ban on independent media covering local polls just outside the island's former war zone.
The organisation said Sri Lanka's decision to allow only journalists from state-run media into the cities of Jaffna and Vavuniya, both near the Wanni region which was wrested from Tamil rebel control in May, was wrong.
"It is unacceptable that the government should impose such a ban (on independent journalists) on nothing more than the vaguest security grounds," Paris-based Reporters Without Borders said in an emailed statement.
"As well as violating the population?s fundamental rights by preventing them from circulating freely, this measure dashes any hope of a transparent election."
Jaffna and Vavuniya municipal councils go to the polls on Saturday. The vote does not cover areas recently captured from the Tiger guerrillas but travelling to both areas requires permission from defence authorities.
Officials confirmed that requests from independent media to travel to the region had been turned down on "security considerations." The military and the state-run media have their own journalists in the areas.
Jaffna was taken back from rebel control in December 1995 and several elections have been held there since.
The government claimed victory over the Tamil Tiger rebels in May after killing the top leadership of the separatist movement which had been fighting since 1972.
However, journalists and aid workers are still not allowed free access to the former rebel-held areas or to some 300,000 civilians who escaped the fighting, but are now held in state-run camps.
(For updates you can share with your friends, follow TNN on Facebook, Twitter and Google+)