Paavam Nayantara: Pazhi Prabhu Deva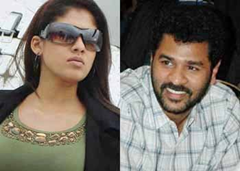 If a small fruit falls because a crow sat on it, it is alright, but if a piece of rock does? That's how the Prabhu Deva – Nayantara romance is going on.
Their romance started during the shooting of 'Villu' and what has happened after that, is known to everyone. One gang is trying to sever their connection on a sentiment basis.
Before Nayantara took on with Prabhu Deva,m she was in the number one spot. After 'Villu,' she faced many complications in 'Paiyya.' 'Kuselan,' 'Egan' and 'Sathyam' all turned out to be flops for Nayantara. So some of Nayantara's friends are said to have advised her that her bad times started ever since she started moving closely with Prabhu Deva and if she broke off with him, her good times would return.
Though this would spell disaster for her romance, Nayantara sometimes seem convinced that what they say could be true. Nayan's Kerala pals are now waiting to see when the romance is going to break up.
(For updates you can share with your friends, follow TNN on Facebook, Twitter and Google+)