Conscience of Swaminathan should touch India, IC: Tamil circles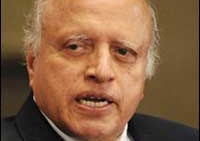 M S Swaminathan, internationally renowned agriculturalist, regarded as the father of India's Green Revolution, declined to involve with Colombo "unless there is some kind of political settlement," IANS reported Wednesday. "There are people who feel unless Tamils in Sri Lanka can live in dignity, other things are subsidiary. This is a viewpoint. I have no plans to go to Sri Lanka in the immediate future," Swaminathan told IANS. In February, another prominent Indian and a Kannadiga from Mysore, N R Narayana Murthy of Infosys, refused IT advisory to Colombo. "Development is not exploitation of the plight of people facing structural genocide," Tamil circles said pointing to the attitude of the Indian Establishment and sections of IC blindly abetting Colombo and officially rationalising genocide, just to make inroads into the island.
The change of mind of the 84 years old veteran, Swaminathan, who visited Mahinda Rajapaksa in June and discussed a plan for agricultural revival of the north, follows criticism in Tamil Nadu against abetting a government that has not rehabilitated Tamils and alleged planning Sinhala settlements in Tamil areas, IANS reported.
However, the Indian Establishment is determined in supporting Colombo and is sending a delegation from the Indian Council of Agricultural Research to the Tamil districts of the North.
Swaminathan, who had given his ideas to India's Foreign Ministry said: " My plan is already there. They (Indian authorities) can do the necessary things. They can do what I have suggested. There is no need for me to go."
In the last couple of weeks India has taken some crucial decisions in financing and developing Colombo's military establishment in Palaali (Kaankeasanthu'rai), improving communication in the East in such a way to link it with Sinhala districts and in integrating the Tamil homeland in the Indo-Lanka power grid through coal power plant in Trincomalee and under-sea cable link.
Meanwhile, Colombo is engaged in a slow but sure biological genocide of the nation of Eezham Tamils by depriving it of food for decades now, said anthropologists in Jaffna and Colombo.
They were citing to general physical emaciation of Eeham Tamils, especially the younger generation, which is too obvious to onlookers who could compare physical appearance quarter a century ago.
The situation is a result of prolonged food blockade to Tamil areas, food costing extra to Tamils, occupation of cultivation lands by the armed forces, ban on fishery, lack of protein and other nutritious food intake, general conditions of war and now the indefinite incarceration of a large number of people in camps, the anthropologists pointed out, warning about long-term impact on the physical anthropology of Eezham Tamils.
But the situation can never be allowed for exploitation by the genocidal state of Sri Lanka and by its greedy international abettors, to confiscate Tamil homeland, to change demography, to coerce Tamils to abandon their aspirations and to confirm slavery in the name of development. Such efforts coming from any side are sure to find relentless resistance, Tamil circles said.
Perhaps a way out is the international community stepping in and proving that it has the capability of ganging up in positive acts for humanity too, the Tamil circles said, according to whom, an international arrangement guaranteeing security to Tamils in preventing genocide and allowing them to plan their own re-settlement, rehabilitation, development etc., removal of all occupying forces and military administrators of Colombo, arrangements for direct access to the diaspora and to international assistance, and above all, recognition of Eezham Tamil nation and its absolute right to self-determination for the Tamil and Sinhala nations to engage in productive talks for political solution are some of the measures the IC and India should seriously think of to see an island developed peacefully to suit their interests.
The powers have conducive opportunity now to correct the mistakes they made about state in the island, right from colonial times.
But IC's inaction and India sitting on international intervention while actively abetting Colombo's totalitarianism in the island do not portend well to the situation, is the fear of many political observers.
(For updates you can share with your friends, follow TNN on Facebook, Twitter and Google+)