'Sri Lankan refugee camps worst in history'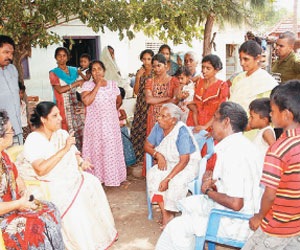 Internally displaced persons (IDPs) in refugee camps in the island nation were torn asunder and young women were forced to stay with stran­ge men in make-shift tents. This is what the former Attorney General and Solicitor General of Sri Lanka Chitta Ranjan de Silva had told Lankan media, according to  Nimalka Fernando, human rights activist and a lawyer from the island nation, on Thursday.
In an exclusive interview to Express, she said toothbrush and soap were luxuries for the IDPs and they continued to wear the same clothes that they wore when they were brought to the camps.
The Tamils were not treated like victims of war, but as war criminals by the authorities, Fernando said. She felt that if this was the plight of civilians, she could not imagine the treatment meted out to the LTTE cadre, including the disabled, who were being detained in special detention camps.
Ridiculing the claim of Sri Lankan government that the IDPs were forced to stay in the refugee camps because they faced danger from landmines, Fernando asked if the Tamil civilians could reach IDP refugee camps safely without being blown up by landmines why they could not return along the same routes?
Shelling of Tamil areas was intensified to make people starve and to force them to reach the refugee camps, she alleged and added the Lankan military had been sweeping the shelled areas and dumping the bodies into the sea obliterating all evidences of war crime.
Comparing the refugee camp of Koodalnagar, in Madurai, which she had visited on Thursday, with the IDP camps in the island nation the human rights activist said that she could sense the air for the  freedom of movement, which was missing in Lanka.
She said rebuilding their lives would be tough for the refugees as everything, including their boats, agricultural tools and lands, were usurped by the State.
(For updates you can share with your friends, follow TNN on Facebook, Twitter and Google+)