Sri Lanka's war refugee camps flooded: official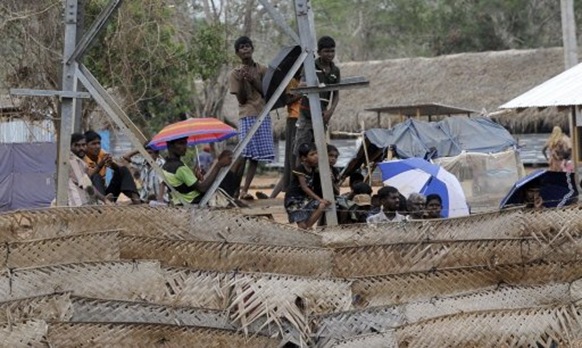 Heavy rains flooded camps housing some of Sri Lanka's 300,000 war refugees, officials said Sunday, raising fears for the welfare of the detainees.
The downpours washed away makeshift shelters, toilets and sewage pipes, and left hundreds of people unable to cook meals in open-air kitchens in the northern district of Vavuniya.
The Tamil civilians remain held in the state-run camps despite the government's victory over the Tamil Tiger separatist rebels in May after decades of ethnic conflict.
Access to the camps for aid agencies has been restricted by the Sri Lankan government, which says it is screening the inmates in search of former Tamil Tigers fighters.
Monsoon rains are due next month, and international aid agencies have repeatedly expressed their concern over the detainees' basic living conditions.
"More than 500 people have been re-located to higher grounds. The government is providing cooked food and other essentials," said Vavuniya's top government official, P.S.M. Charles.
She said a section of the Manik Farm camp was the worst hit by the floods as the drainage system was only half built.
The privately-run Sunday Times newspaper said up to 100,000 people had been affected but Charles dismissed the figure as too high.
(For updates you can share with your friends, follow TNN on Facebook, Twitter and Google+)