Tamils in Jaffna long for normality – The National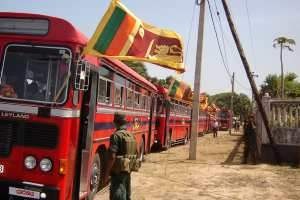 The ruling United People's Freedom Alliance (UPFA) may claim it won a crucial election in the minority Tamil-dominated town of Jaffna, but frustrated residents say the government is far from being able to provide peace with dignity.
"It is a long way before people will get their freedom and peace. We want to be treated with dignity, not live like second-class citizens," said a retired lawyer who, like many others who spoke to The National, did not want to be named.
From journalists, public officials and businessmen to the ordinary man on the street, residents of this town, once the seat of Tamil nationalism and the cry for a separate homeland, are reluctant to speak to the media for fear of upsetting the authorities.
At the nearby Nallur Hindu temple, which this month is expecting Tamil expatriates from across the world for its annual festival, devotees were uneasy even talking about the festival, its origins and significance. "Please don't quote me," said a young man going towards the temple.
Hindus are the majority community in Jaffna, which has a small Christian and Muslim population. Across Sri Lanka, Tamils, who represent 12 per cent of the population, are mostly Hindus.
While the end of the war in May this year brought relief to many Sri Lankans, the life of the Jaffna resident has not changed much apart from the end of food shortages.
Hundreds of troops are spread across the northern region, there are some items still banned in Jaffna, and going to Colombo, about 400 kilometres to the south, is a bureaucratic nightmare.
"They charge us 19,500 rupees (Dh623) per return flight for a one hour journey [one way] when it probably costs the same to go to Malaysia and back from Colombo," said an angry resident. Travel to Jaffna is mainly possible through two or three daily flights by a private airline, and for the past two weeks, the air force, which has been operating commercial flights.
Travel is still restricted along the main north-south motorway, which is open now mostly for military transport. A few passenger buses and goods lorries are allowed on the road, with security checks taking a long time.
A trader said it takes as long as eight hours to travel from Colombo to Jaffna by car.
"Lorries are held up sometimes for three days at security checkpoints further south of Jaffna. Often these lorries, which carry fruits and vegetables, arrive here with rotting or spoilt stuff," he said.
Another shopkeeper said transporting goods by lorry cost 100,000 rupees per journey compared with 10,000 rupees in 2002-03 when the road was open without restriction during peace talks between the government and Tamil rebels.
However, with lorries carrying consumer goods into Jaffna, compared to goods being transported by ship during wartime, essentials and other goods are available and in some cases, like medicines, cheaper than in Colombo.
"The drug companies want to capture this market. So they are offering huge discounts which we are passing to the consumers," said a pharmacy owner.
In the first polls held since the Tamil rebels were defeated by government troops, the ruling party won elections to the Jaffna Municipal Council. However, the win by the UPFA, which claimed that the victory reflected faith in the government by Tamils, was largely due to the presence of the government minister and former rebel commander Douglas Devananda.
Mr Devananda, whose party supports the government, told the media yesterday, two days after the election, that his party would have won a bigger victory if he had his way.
He said it should not be perceived as a victory for the government, which faces many problems. High among them is reforming an education system that is in shambles. A once-proud system – Jaffna district had the best results after Colombo in any secondary examinations – has been shattered by the war.
Education officials here say Jaffna, part of the northern province, which is at the bottom among Sri Lanka's nine provinces, now ranks 18th among 25 districts.
"We have not only lost infrastructure but also skilled people. Dozens of teachers have gone abroad due to the war and it's hard to get replacements," a senior official said.
(For updates you can share with your friends, follow TNN on Facebook, Twitter and Google+)