MK urges PM to help save displaced Tamils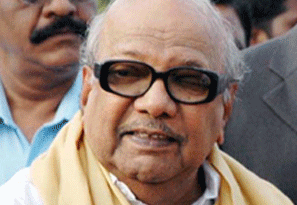 Chief Minister M Karunanidhi on Monday urged Prime Minister Manmohan Singh "to step in to end the sufferings of the displaced Tamil families in Sri Lanka."
"I feel it is high time that the Government of India exerted diplomatic and political pressure at appropriate levels on the Government of Sri Lanka at least on humanitarian grounds. I hope I can expect early action in this regard," the Chief Minister said in a letter written to the Prime Minister.
Karunanidhi said that the displaced persons were reportedly located in various camps 'huddled together' in houses that lacked basic amenities. He said it was also learnt that these people were suffering quite a lot for want of medical care and attention. The recent incessant rain appeared to have compounded their miseries and problems as flood waters entered their houses.
He recalled that the State had sent four consignments of rice, dhal, sugar, tea, clothing material, cooking vessels, and personal items amounting to Rs 38.83 crore.
The government had also agreed to absorb the difference in cost towards payment of charges for the consignment from the Sri Lankan diaspora, which could not be off-loaded in Sri Lanka.0 "We still do not know very clearly whether this issue has been sorted out," he added.
With the situation of three lakh internally displaced Tamil peoples (IDPs) in Lankan-government-run welfare camps worsening every passing day, Senior CITU leader A Soundararajan on Monday demanded that they be immediately resettled to avoid the misery due to rains.
Addressing a gathering here, he said, "When the people now confined in 30 such camps expressing their desire to go to their native villages for themselves, I do not understand why the Sri Lankan government insists on keeping them in pathetic conditions and without basic amenities in the so-called welfare camps fenced with barbed wires.
(For updates you can share with your friends, follow TNN on Facebook, Twitter and Google+)