US Tamil boycott campaign targets Victoria Secret, Macy's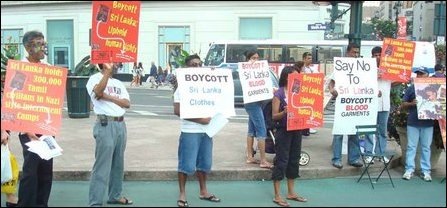 U.S. Tamil expatriate groups in New York as part of their continuing campaign urging U.S.companies to avoid trade with Sri Lanka, targetted Victoria Secret, the lingerie giant with $5.6b net sales in 2008, and the retail giant Macy's which had $26.3b sales in Fiscal Year 2007, Saturday 15th August in Manhattan at 34th street and Broadway junction, between 3:00 to 6:00 p.m.
MACY'S and Victoria Secret have retail stores across from the area where the protesters stood, and carry many garments Made in Sri Lanka.
55million of the 70m Victoria's Secret panties made every year come from Sri Lanka, according to US media reports in 2006.
Many shoppers did not know that Sri Lanka exported over 50% of its garments to US, and that Sri Lanka was forcibly holding 300,000 Tamils in concentration camps. "This is slavery," many shoppers said after reading the handout, according to those present at the protest.
"Check the label before you buy, for Sri Lanka is committing genocide," said a message in the flyer the protesters were distributing to the interested shoppers.
"Ethical shopping is in the natural psyche of US shoppers, and we believe a sustained campaign of small scale protests, held widely in different states in front of identified big-label stores that sell Colombo-made clothing and other consumer items, will likely have a debilitating effect on Sri Lanka's economic performance,"said Siva Nathan, the organizer of Saturday's protest.
"We hope to slowly expand the scope of the boycott campaign, and anticipate the protests to spread to other major cities in the US in the coming months, and get the attention of the Tamil diaspora worldwide."
(For updates you can share with your friends, follow TNN on Facebook, Twitter and Google+)