Arms review urged over fears British weapons were used against Tamils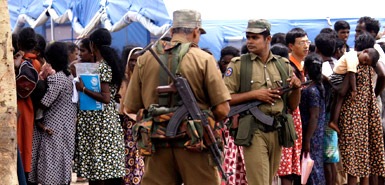 Fears that British weapons were used against civilians in Sri Lanka's war against the Tamil rebels have prompted calls for a review of the arms trade.
In its annual report due to be published today, the Commons Committee on Arms Export Controls argues that all existing licences to Sri Lanka should be investigated.
MPs specifically want to know which British arms were used by Sri Lankan forces in this year's final offensive against the Tamil Tigers, in which an estimated 20,000 civilians died.
Concerns about arms exports were heightened by the Government's admission this year that British components were "almost certainly" used by Israeli forces during the Gaza offensive, in which up to 1,400 Palestinians died, many of them civilians.
The committee says that while the situation in Sri Lanka made it "impossible" to know how British weapons were deployed, there were legitimate concerns that they may have been used against civilians.
"Sri Lanka highlights the need for the UK Government to monitor closely the situation in countries recently engaged in armed conflict," Roger Berry, the chairman and a Labour MP, said yesterday. "It must assess more carefully the risk that UK arms exports might be used by those countries in the future in a way that breaches our licensing criteria."
Britain approved the sale of more than £13.6 million of weapons and military equipment to Sri Lanka during the last three years of its civil war, including armoured vehicles, machinegun components, semiautomatic pistols and ammunition.
In the last quarter of 2008 Britain approved 21 licences for more than £1.3 million of supplies and declined two that were deemed to violate EU rules on such sales.
Britain is legally bound by the European Union code of conduct on arms transfers, which restricts the arms trade to countries facing internal conflicts or with poor human rights records and a history of violating international law.
The code focuses not on the lethal potential of the weapon but on its end use. Between April last year and March 34 licences were granted for military exports to Sri Lanka.
Malcolm Bruce, a Liberal Democrat MP who visited Sri Lanka in April, said of the licences: "There were too many unanswered questions. With hindsight, Britain's sales did violate the EU code of conduct."
MPs rejected the Government's claim that it could not have anticipated the civilian toll in Sri Lanka, noting the dramatic increase of hostilities after the collapse of the ceasefire in 2006. Bill Rammell, the Foreign Office Minister, also argued that a British arms embargo on Sri Lanka would have prevented them attaining any leverage to press for a ceasefire.
The endgame of Sri Lanka's civil war began in January with the final push against Tamil Tigers holed up in the northeast behind a human shield of Tamil civilians. Official figures from the United Nations put the civilian death toll from January to April at 7,000. UN officials told The Times that the number swelled to an estimated 20,000 before the Tigers were defeated in mid-May.
The United States suspended all military aid and sales to Sri Lanka early last year because of concerns about worsening human rights abuses against both Tamil rebels and civilians. British MPs and activists against the arms trade said that the EU should have done the same even earlier, when the ceasefire first collapsed.
(For updates you can share with your friends, follow TNN on Facebook, Twitter and Google+)