With UN Silent on Flooding of Sri Lankan Camps, Aid Groups Plead for Release of IDPs
While the UN refuses to address the flooding of the Manik Farms detention camps it built and is funding in Sri Lanka, the aid groups while offer serves there have petitioned not only the government but also the UN to at least release those imprisoned there before the September monsoon season. The UN has said nothing. At the UN's noon briefing in New York on August 17, Inner City Press asked
Inner City Press: Over the weekend there was this flooding of the UN-funded camps, quite bad, and the Government has actually blamed the UN for it, has said the UN was responsible for building the camps and for sewage and which is now backed up and has now filled up the tents. Does the UN have any response either to what it's going to do to solve this problem and also to being blamed by the Government for the problem?
Deputy Spokesperson Montas: We'll try to get you something from OCHA. I don't have anything from them this morning.
More the 30 hours later, the UN has provided no statement and no response, even to the appeal from aid groups, that
We fear that once the monsoon rains set in after September there is significant likelihood of a major humanitarian catastrophe. Increasingly there is an overwhelming consensus amongst health, shelter and water experts that significant adverse monsoon conditions will develop in IDP sites that are well beyond the present capacity of aid agencies and the government response.
Shelter and Drainage Monsoon flooding and wind will expose structural limitations, destroying or damaging the majority of shelters. Additionally inadequate drainage will increase the risk of disease, whilst the resultant water logging will severely restrict vehicle access and hamper interventions to maintain and repair shelters in many areas.
Food Flooding will contaminate food supplies and render communal cooking areas unusable, whilst wet firewood will mean that people are unable to cook for themselves. This could lead to serious food shortages and malnutrition among an already vulnerable population.
Water and Sanitation Effluent and excreta will flood many areas of the camps contaminating drinking and bathing water and intensifying the risk of epidemics of life-threatening water-borne diseases, such as cholera, typhoid and diahorrea. Many sanitation and water purification facilities will have to be disconnected as a health and safety measure, threatening the viability of other essential facilities such as shelter.
Transport Flooding will make access roads impassable preventing food, dry clothes, life-saving medicines, and essential machine parts for restoring water and other essential aid services from reaching the affected IDP population.
The breakdown of services in these four vital areas, we believe, will create an unparalleled health risk threatening many thousands of lives.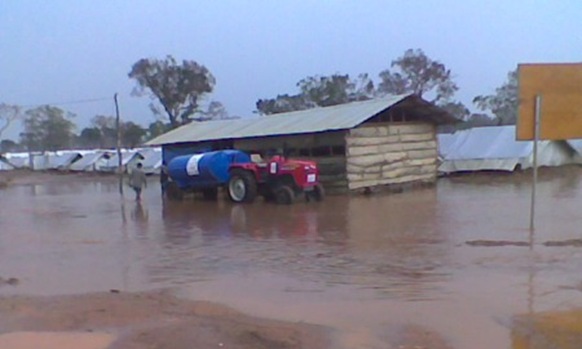 …We increasingly believe that from a technical and logistical perspective, the present high concentration of people in such a vulnerable site as Menik Farm is unworkable, unsustainable and beyond the collective capacity of Humanitarian Agencies, the UN and the Government to manage in a way that would guarantee the safety and security of the IDP population.
We therefore urge the government and the UN to consider additional response strategies to ensure the health and well-being of the IDPs, particularly:
–An accelerated resettlement programme for Menik Farm IDPs under the government's present 180–day program.
–Instigating a host family programme for thousands of IDPs who have access family in nearby areas. We believe as many as 50% of camp residents have relatives they can stay with during the monsoon.
We hope that you will give serious consideration to these proposals and we wish to reaffirm to you our common humanitarian concern and continuing cooperation.
But there has as of yet been no response. It appears that top UN humanitarian John Holmes is out of the loop — his deputy Catherine Bragg is representing OCHA on the first humanitarian day event at the UN on August 19 — while UNHCR's country representative Amin Awad has appeared to excuse the government's detention and torture of UN staff. WFP has reportedly used Sri Lanka as the dumping place for employees it should have disciplined — click here for Inner City Press' story.
   Conditions in the camps have gotten so bad that there is talk of an attempt to break out to survive — or to be killed by the government. This is a low point for human rights, for the UN and humanitarian law. And it just keeps getting worse….
(For updates you can share with your friends, follow TNN on Facebook, Twitter and Google+)