White House Tamil protest draws media attention
Commenting on the increase in number of protests after President Obama came to power, Politico.com, a site run by a Virginia-based popular American political group and edited by former Washington Post staffers, noted that the "most memorable crowd of protesters outside Obama's door [White House]" was a Tamil expatriate group which has "caught the attention of administration officials and journalists alike with its unflagging, mind numbing chants." Washington-based Tamils and Canadian Tamils have been protesting in front of the White House for the 102nd contiguous day Thursday, urging Obama administration to take steps to safeguard Tamil civilians and to enforce a just and fair solution to the Tamil National question.
President Obama! President Obama!" women and men on a megaphone would call as the rest of the crowd — sometimes as large as 300 people — echoed, "Stop the genocide," Politico commented on the chanting, adding that White House reporters have complained on the repetitive chanting distracting reporters' concentration on other matters.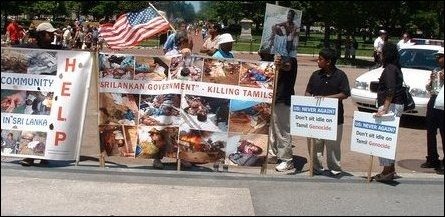 "We are going to keep going until our loved ones are freed from concentration camps and they can live in their own places without any torturing," said one Tamil Tiger protester who would identify herself only as coming from Canada. "The babies are starved to death. Even the old people are dying in the concentration camps," Politico quoted a Canadian Tamil protester as saying.
"When slaughtering of Tamil civilians by the Sri Lanka military inside the "Safe Zone" reached unprecedented levels we decided to start a protest on a continued basis in front of the Lafayette park in full view of the White House. 11th May was the first day, and we have continued since that date. We will continue until U.S. takes some concrete measures to alleviate the tragedy that had befallen on the Tamil people," Dr Thayaparan, the main organizer of the protest told TamilNet.
Evidence gathered by The Times newspaper has revealed that at least 20,000 Tamil people were killed on the Mullaiththeevu beach by Sri Lanka Army shelling. While UN remained silent, confidential UN documents acquired by The Times record nearly 7,000 civilian deaths in the 'no-fire' zone up to the end of April. UN sources said that the toll then surged, with an average of 1,000 civilians killed each day until May 19.
(For updates you can share with your friends, follow TNN on Facebook, Twitter and Google+)