Australian politicians troubled by deteriorating conditions in Sri Lanka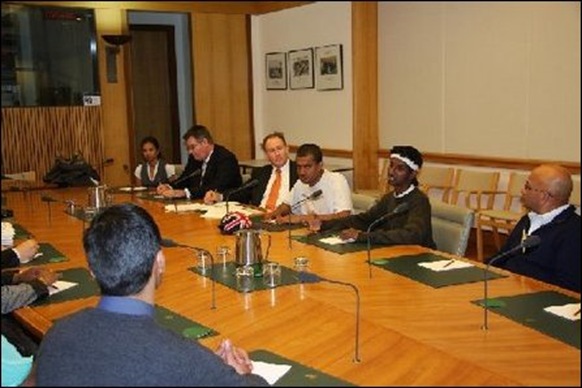 A group of Australian parliamentarians have expressed concern for the plight of thousands of refugees being held in Sri Lankan military run camps at a meeting with members of the Tamil youth at Parliament House on Tuesday. In a free flowing discussion covering conditions faced by displaced civilians and a lack of independent access to refugee facilities, the panel also condemned reports of intimidation directed at the Tamil Diaspora from the Sri Lankan Government, before citing the promised resettlement of the 300,000 refugees within a 6 month period as the basis for future engagement.
In an hour long meeting, the parliamentarians discussed at length various concerns raised by a youth delegation headed by Vishna Sivaraj and Seran Sribalan, who had been welcomed just minutes after completing a 300km walk over eight days from Sydney to Canberra to raise awareness of the imprisonment of Tamil refugees in military run camps.
The politicians shone a critical eye over recent actions carried out by the Sri Lankan Government, including the blocking of the Vanangama Mercy Mission, an aid ship organised by members of the Tamil Diaspora to deliver essential goods to thousands of refu'gees that was turned away by authorities.
"This should be of great concern to all of us because we are talking about the fundamentals of human existence. If you can't get food and medical aid to the people who so desperately need it, we have got to speak out against it" said MP John Murphy.
Responding to a letter he received highlighting the Sri Lankan Government's threats of arresting anyone who was seen speaking out against authorities upon return to Sri Lanka, MP Murphy said: "We are very concerned, at the heart of what we want to do here in Australia is ensure that human rights and dignity of those people are preserved, and if we are getting a message now that the government now don't even want the Diaspora of the world speaking out for the poor people…this gravely concerns us as parliamentarians".
Discussing possible avenues for future action, the delegation, consisting of Senators Mark Furner and Claire Moore, and Members of Parliament Jill Hall, Laurie Ferguson, John Murphy and Julie Owen, cited Mahinda Rajapakse's seemingly doomed pledge to resettle civilians detained in government camps within 6 months as the basis for higher level discussions with Australian Foreign Minister Steven Smith.
The ministerial representatives also praised the efforts of Vishna and Seran for their inspiring dedication and resolve in raising awareness of the issue, describing the Tamil Diaspora as "fine citizens who have made invaluable contributions to Australian society".
(For updates you can share with your friends, follow TNN on Facebook, Twitter and Google+)