How India secretly helped Lanka destroy the LTTE: Rediff.com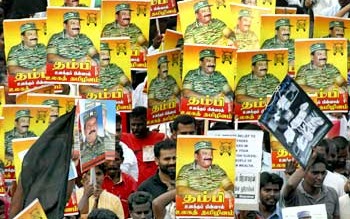 Nitin Anant Gokhale, NDTV's Defence and Strategic Affairs Editor, has been reporting on military affairs and militancy from hostile terrains like India's north-east, the Kashmir valley and the Naxal heartland.
His latest book Sri Lanka: From War to Peace is based on his reportage of the 33-month civil war in Sri Lanka. Gokhale chronicles the details of an unprecedented military campaign by the Sri Lankan armed forces and analysis the reason for the Liberation Tigers of Tamil Eelam's decline.
In this exclusive excerpt, he details how the Indian government, bound by domestic political compulsions, covertly helped the Sri Lankan army and navy to scour out and destroy the LTTE.
By the end of November 2008, the script was no longer in LTTE chief Vellupillai Prabhakaran's hands.
It was being written by the Sri Lankan forces tacitly supported by India and openly assisted by China and Pakistan.
Since December 2005, when Mahinda Rajapaksa made his first visit to New Delhi less than a month after he took over as Sri Lanka's president, India was aware of his intention to take the LTTE head on.
Although in the initial days he was advised to seek a negotiated settlement with the Tigers, New Delhi saw merit in Rajapaksa's argument that the LTTE was only biding its time to regroup and rearm itself and that war was inevitable sooner than later.
And if the LTTE was preparing for a showdown, Rajapaksa did not want to be caught off guard either. His armed forces needed to be ready for any eventuality.
The president therefore sent his brothers Basil and Gotabaya to New Delhi with a shopping list for essential weapons and equipment that the Sri Lankan armed forces needed. The shopping list included air defence weapons, artillery guns, Nishant unmanned aerial vehicles and laser designators for precision-guided munitions.
Initially, New Delhi was non-committal.
Top officials involved in the talks on either side told me that in its typical bureaucratic style, New Delhi neither said yes nor said no to the visiting Sri Lankans. So the two brothers went back slightly disappointed but were still hopeful of getting Indian help.
Outwardly, India did adopt a hands-off policy vis-a-vis the Sri Lanka conflict. But that was because of domestic political compulsions born out of the fact that the ruling United Progressive Alliance government in New Delhi was dependent upon the Dravida Munnetra Kazhagam party from Tamil Nadu for its survival in Parliament.
(For updates you can share with your friends, follow TNN on Facebook, Twitter and Google+)