Dolphin van scare in Vavuniya camps
Displaced Tamil people are being daily abducted from camps in Vavuniya by people who come in vans, a displaced person told the BBC.
Speaking with BBC Sandeshaya from a camp for internally displaced people (IDP) in Vavuniya, the IDP said all the displaced try to hide in their tents as the 'Dolphin vans' arrive in the camps.
"We do not know what exactly happens as everybody hides as soon as they see the vans. But I know that two to three people are disappearing daily," he said.
Some IDPs may also be secretly leaving the camps by paying the authorities, he said.
"Some people have suddenly disappeared. I don't know whether they were abducted or left with the help of the authorities."
Meeting relatives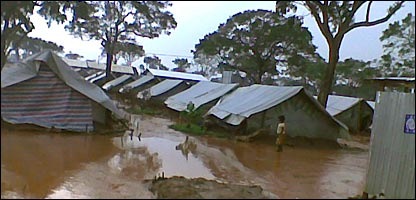 Those who have been already identified as LTTE operatives are sometimes helping the security officials to recognize those who have earlier supported the LTTE, according to the man.
The Tamil man who did not want to be identified due to fear for his safety said they are only allowed to meet relatives separated by a barbed wire fence.
"There are special tents outside the camps to meet the relatives. They are not allowed to touch anybody as both parties have to stay five metres away from the fence. If they need to hand over something, biscuits, fruits, etc, they have to throw it over the fence."
Three meals are provided in the camps, he said, but as the food is prepared for thousands of people at once, they are unpalatable.
When food is delivered the IDPs have to stay in queues for more than an hour, depending upon the camp, to get their quota of meals or dry food.
As the rainfall continues, he said, it is very difficult to live in the camps due to floodwaters and bad smell from the lavatories that have overflown.
The IDP says that it might even take about three years for the authorities to resettle all the displaced at the current pace.
(For updates you can share with your friends, follow TNN on Facebook, Twitter and Google+)