In Sri Lanka, Death Threats Over Speaking on EU's GSP Plus Tariff Treatment, Silence at UN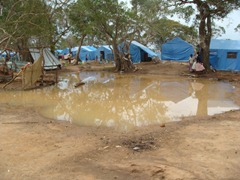 A Sri Lankan academic and human rights activist faces death threats for allegedly providing information about the situation in Sri Lanka which might force the European Union not to continue its tariff free treatment of Sri Lankan textiles under the so called GSP Plus program.
Paikiasothy Saravanamuttu of the Centre for Policy Alternatives received the death threat, reproduced below, last week. The UN Security Council, which despite the UK's claim to have had the votes to put Sri Lanka on the agenda didn't, has not spoken on the death threat, nor on the worsening conditions in the internment camps for Tamils which the UN is funding.
  On April 30 of this year, Inner City Press asked UK Ambassador to the UN John Sawers about using the GSP Plus renewal as some leverage for better treatment of Tamils in Sri Lanka. Sawers answered, "We're not in the job of penalizing the government of Sri Lanka." Click here for that story.
In May, Inner City Press asked the Netherlands' deputy permanent representative to the UN Piet de Klerk about Sri Lanka and the GSP Plus program. DPR de Klerk said he didn't think that human rights were "applicable to this sort of situation." Click here for that story.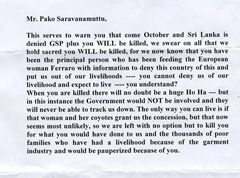 Now, despite these deaf ears, Paikiasothy Saravanamuttu has received a death threat about the mere possibility of GSP Plus treatment being suspended. We hope to have more on this.
  For now, this is what Norway's Deputy Permanent Representative to the UN Mona Juul had to say about the UN's Ban Ki-moon's actions on Sri Lanka:
Another example of weak handling from the Secretary-General's side is the war in Sri Lanka. The Secretary-General was a powerless observer to civilians in their thousands losing their lives and being driven from their homes. The authorities in Colombo refused to receive the Secretary-General while the war was going on, but he was an honored guest — and he accepted the invitation — once the war had been "won." Even though the UN's humanitarian effort had been active and honorable enough, the Secretary-General's moral voice and authority have been absent.
(For updates you can share with your friends, follow TNN on Facebook, Twitter and Google+)