Sewage mess: Govt. and UNICEF trade charges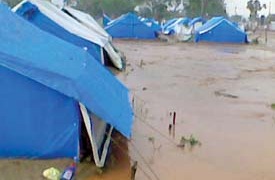 Our story last week captured the conditions of the Internally Displaced People (IDPs) in Menik Farm following flash floods damaging tents and carrying sewage into tents around the camp.
Though the rains eased during the last few days, the IDPs could face more problems due to the monsoon proper starting in a few weeks. The New York Times on August 16, quoting an NGO source said there could be more damage during the full monsoon. "If only three or four hours of rain cause this much chaos, only imagine what a full monsoon can cause," said, Country Director for Oxfam, David White. Latrines have collapsed, sending waste spilling into nearby rivers. "Really, we have run out of options and the only option that is left is to speed up the resettlement process," White had said.
The question of standards in toilets has now arisen following the floods in Menik Farm. Fingers are now being pointed at the UN for constructing toilets below standard.
Vavuniya Government Agent, P.S.M. Charles told The Sunday Leader that UNICEF, which was responsible for the construction of the toilets, had not conformed to Sri Lankan standards.
Sanitation solutions
She said UNICEF and other agencies had discussed sanitation solutions in 2006. She said an international and national standard for design and construction of septic tanks and associated affluent disposal systems was presented by UNICEF during that time.
"However, another set of standards were agreed upon by the government and the agencies recently. UNICEF had not conformed to those standards as well," Charles said. "Now UNICEF has taken steps to upgrade these toilets."
United Nations (UN) Resident and Humanitarian Coordinator in Sri Lanka, Neil Buhne,  responding to criticism that toilets constructed for IDPs are "substandard" or do not conform to global standards said, the toilets were a standard design put together after discussion with government agencies and other local partners, and similar to that used in IDP sites in the east. 
"It is a proven design, improved to take into account local needs, and further improved after consultations with government agencies, national and international humanitarian agencies, and endorsed by the Ministry of Health and the Ministry of Resettlement and Relief Services.  However it is meant for temporary use and in areas with a certain number of users.  The concerns and problems there arise more from the population density in the centres, challenges in maintenance, and the nature of the site, than from the design.  A similar, in fact a more basic design, served people well in the welfare centres in the east over many months," he said.
Secretary, Ministry of Resettlement and Disaster Relief Services, U.L.M. Haldeen said UNICEF had built the toilets using plywood, which could only be used for six months.
"The agencies were reluctant to construct toilets that were stable for a longer period, as they feared that the IDPs would be kept in camps permanently," Haldeen added.
More time needed
He said the government needed more time to resettle the people due to activities such as de-mining and therefore had to come up with another set of standards for longer lasting toilets in IDP camps.
"We did that because we knew the IDPs will be in camps for more than six months, at least one and a half years. Therefore, we needed to change the standards accordingly. UNICEF has agreed to follow the standards," he said.
Another top official at the UN who asked not to be named said the issue of substandard construction comes only if the standards for a regular permanent dwelling are applied to an IDP site.
"Such standards are also not necessarily better for an IDP camp, as the designs are usually for smaller scale use, plus the extra expense etc. means not as many can be put up as fast for the same money, which in this case would have meant IDPs would have had to use the pit latrines longer which were set up in the very first stages," the official said.
He said those, while appropriate to meet an immediate need are at the least unpleasant and more often unhealthy and could be dangerous adding that many of the earlier criticism of sanitation came from people when those were in use. "Whereas the latrines in the camps are generally well maintained by the IDPs and clean and permit also the use of water to clean."
He stated that problems had arisen when the effluent tanks were not cleaned regularly or cleaned improperly, leading to the tanks collapsing. In addition, the official said many of the sites in Menik farm by nature are hard to drain.
(For updates you can share with your friends, follow TNN on Facebook, Twitter and Google+)