UN Says Lankan President's Nephew was Murdered in Tanzania, Genocide Theory Offered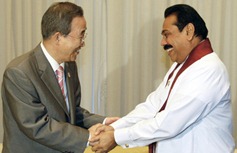 Following the death in Arusha, Tanzania of the nephew of Sri Lanka president Mahinda Rajapaksa, Shyamlal Rajapaksa, who served as a prosecutor for the UN International Criminal Tribunal for Rwanda, allegations have been made in Sri Lanka that the UN is involved in a cover-up of the death.
  In New York on August 24, Inner City Press Michele Montas, the Spokesperson for Secretary General Ban Ki-moon, to respond to the allegations, including about UN insurance coverage. Ms. Montas answered that "the preliminary finding.. is that he has been murdered." Video here, from Minute 10:03.
This is more than a little strange. In Sri Lanka, "outgoing Foreign Secretary Palitha Kohona told The Sunday Times they were awaiting a full report from Tanzania… He said the accountability is clearly with the UN, whether the death was caused by natural causes or otherwise since Mr. Rajapaksa was working for the world body. He also said Mr. Rajapaksa was entitled to full insurance compensation irrespective on how the death occurred."
Inner City Press asked Ms. Montas if the UN's payment of insurance would be impacted by the cause of death, which some press reports ascribe to a drug overdose. Ms. Montas called insurance a "hypothetical question."
But "Lalitha Rajapaksa, mother of Shyamlal, said it was difficult to accept the UN version that her son died owing to natural causes. She said she suspected that there was more to it… 'It was known that my son was in possession of a damning report that was to shed a lot of light on the Rwandan genocide some 15 years ago. He had even made this known to his UN bosses last month,' Ms. Rajapaksa said.
'Shyamlal had been on a five-year fact-finding mission regarding the massacres in Rwanda, a task from which several others opted out because of the dangers involved. I suspect UN officials are trying to cover up something either to dodge the insurance payments or simply to save face in the international community,' she said. Ms. Rajapaksa said the truth could be found out if the investigators were able to retrieve the bombshell report that her son had."
(For updates you can share with your friends, follow TNN on Facebook, Twitter and Google+)