At UN, A Call for An Envoy for Sri Lanka, Murder as Diagnosis, Footage Emerges
People in Sri Lanka expected more from the UN than a couple of phone calls and a Joint Statement with President Rajapaksa, Paikiasothy Saravanamuttu of the Colombo-based Center for Policy Alternatives told the Press on Tuesday. Following Dr. Saravanamuttu's receipt of an anonymous death threat last week, a press conference was hastily organized inside the UN in New York. Roughly half of the questions asked by journalists concerned the death threats. Others concerned Saravanamuttu's assessment of the performance of UN Secretary General Ban Ki-moon and his chief of staff and enjoy, Vijay Nambiar.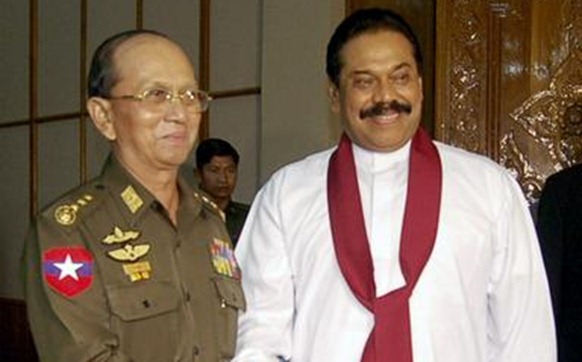 Diplomatically, Saravanamuttu called both of them "disappointing." He noted that no UN Security Council member had pushed hard to get the bloody conflict onto the Council's agenda. A European Council member staffer was in the audience and did not disagree, but afterwards argued to Inner City Press that even if Sri Lanka were on the agenda, action could have been blocked by a veto. The staffer also confessed to knowing little about the GPS Plus tariff dispute that triggered the death threat to Saravanamuttu.
  Saravanamuttu mentioned the roles of Russia and China, and non-Council member India. Asked why the UK, France and U.S. had not pushed harder in the Council, Saravanamuttu said "I guess we are not that important."
Saravanamuttu described a case pending before the Sri Lankan Supreme Court seeking to assert the human rights of the Tamils in the government's internment camps in the north. Again diplomatically, he said that the court does not share the "urgency" of the situation. An audience member, a journalist from India, asked about the recent extraordinary rendition of successor Tamil Tiger leader K.P. from Malaysia. Saravanamuttu said that little is known about how the seizure was done. Could one bring a habeus corpus like petition before the court? The Supreme Court, he said, would have to give leave to proceed.
Several of the attendees expressed surprise at how "moderate" Saravanamuttu was. He repeatedly criticized the LTTE, he called Mahinda Rajapaksa "his Excellency." He said he expected the government of Sri Lanka to protect him. He is on his way, after another UN visit on Wednesday, to a U.S. State Department event about Sri Lanka in Washington, an another session at the U.S. Institute of Peace.
Also in the audience Tuesday were representatives of Human Rights Watch and Amnesty International, as well as Oxfam which asked if Saravanamuttu was meeting with any UN officials while in town. I've met some in the past, Saravanamuttu said. This time, apparently not. Ban Ki-moon, who just returned from holiday in South Korean, leaves Thursday for Vienna and Norway.
Head humanitarian John Holmes, who once spoke of the blood bath on the beach, is on vacation. "Bloody Mary on the beach," one wag snarked, while the UN-funded camps are full of excrement and the monsoons are coming. Saravanamuttu's great hope seemed to be that Ban will, as he's done with Jean-Maurice Ripert in Pakistan, name a special envoy. Let's see if he does. Watch this site.
Footnotes: Perhaps triggering an end to full impunity for the outrages of earlier this year, now video has emerged of soldiers shooting blindfolded unarmed men, click here to view. But will any tribunal or anyone in the UN system take action?
(For updates you can share with your friends, follow TNN on Facebook, Twitter and Google+)