As UN Mulls Sri Lankan Murder Video, Report on Camps Withheld, UK Passes Buck
When a war crime is filmed and presented to the UN, will it take action? On August 26, Inner City Press asked three officials at the UN about the now widely circulated video clip depicting Sri Lankan soldiers shooting naked, blindfolded victims in the head.
  At the noon briefing, Inner City Press asked UN Spokesperson Michele Montas about "footage of what appears to be Sri Lankan soldiers shooting naked, bound, unarmed people [inaudible]. Is there any response by the UN to that footage?" There was not.
   Later another UN official said that the Office of the High Commissioner for Human Rights is considering how to authenticate the footage, perhaps with outside experts, in order to act on it. But how?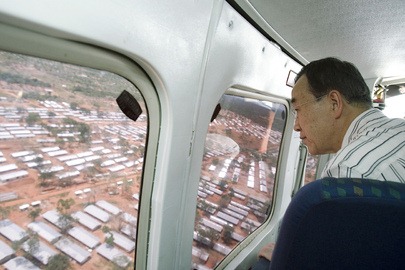 At the Security Council stakeout, Inner City Press asked the president of the Council for this dwindling month, the UK's John Sawers, if he'd seen the footage and what the UK proposes to do about it. He replied that "first," he was appearing as President of the Council. He said he hadn't yet seen the footage but had read about it. It does seem "disturbing," he said, adding that it should be investigated "in the first instance by the Sri Lanka authorities." Video here, from Minute 6:12.
But the Mahinda Rajapaksa administration has already curtailed its investigation into the killing of 17 aid workers of Action Contre La Faim, and declared that its soldiers committed abuses. (Others in the administration have said that winners are never tried for war crimes.) So at this late date to defer to Sri Lanka to investigate the snuff film seems misplaced.
Among NGOs working in Sri Lanka, the level of disappointment at the UN and Ban Ki-moon has grown. The groups are meeting one last time with UN country representative Neil Buhne, to urge him to go public with the evidence the UN has compiled. They say that Tamil females in the camps are being used as comfort women. They say that UN has a report showing that many people will die when the monsoon season comes if they remain trapped in the camps. The UN is not releasing this report, they say, asking why Ban Ki-moon appears so beholding to Rajapaksa.
(For updates you can share with your friends, follow TNN on Facebook, Twitter and Google+)