Canadian Tamils demonstrate against China's support to Sri Lanka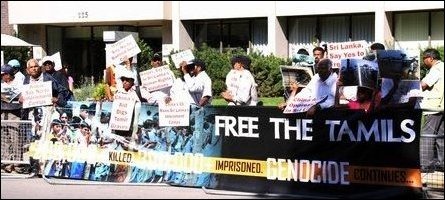 Several hundred Canadian Tamils gathered outside the Chinese Consulate in Toronto, Wednesday, August 26, 2009 to protest against China's financial, economic, and diplomatic support of the Sri Lankan government. Many Tamils attending the protest have their relatives or friends in the Sri Lanka military supervised internment camps in Vavuniyaa where more than 300,000 Tamil civilians.
The protest started at 3 p.m. and lasted until 8 p.m.
Protesters chanted and waved placards, calling for China to stop its aid to Sri Lanka.
Demonstrators also passed out pamphlets to inform the public about the humanitarian crisis in Sri Lanka.
China is the largest supplier of arms to the Sri Lankan military and increased its help when other countries refused to sell military supplies for use in the civil war.
"Last year, China was also Sri Lanka's largest foreign donor, providing more than $1-billion into the country's treasury. Due to China's diplomatic support in the international arena, Sri Lanka was also able to disregard western nations' calls to adhere to human rights norms," said the spokesperson for the protest organizers.
(For updates you can share with your friends, follow TNN on Facebook, Twitter and Google+)