UN Admits Error, Now Says "No Foul Play" in Sri Lankan President's Relative's Death
Four days after the UN said of the death of Sri Lanka president Mahinda Rajapaksa's relative in Tanzania that the "findings is that he has been murdered," on Friday UN Spokesperson Michele Montas said that she had been in error, and that Shyamlal Rajapaksa's death was "linked to his previous health condition." Video here, from Minute 12:17.
Inner City Press, which on August 24 has asked Ms. Montas for the UN's response to Shyamlal's mother's claim that the UN was covering up her son's death, either to skimp on insurance or to bury his finding about the Rwandan genocide the UN paid him for, on August 28 asked Montas to explain the error. She said that "apparently that had been reported in some newspapers, but we had absolutely no reports, really." Video here, from Minute 15:30.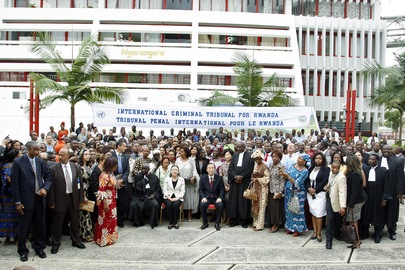 Why then did the UN said he had been murdered? The UN generally, and Ms. Montas in particular, often decline to answer questions based on what they call "media report." But in this case, they announced a cause or manner of death based only on "reports in some newspapers."
In fact, newspaper had quoted officials about drug overdose — whether that falls into the definition of "foul play" is not clear — or about a robbery of Shyamlal's home. Ms. Montas on Friday said that the UN in New York has asked for a copy of the autopsy and hopes to make it available. We'll see.
Footnote: Shyamlal Rajapaksa worked as a prosecutor for the UN's International Criminal Tribunal for Rwanda, on war crimes and genocide. Inner City Press has learned that a U.S. State Department war crimes office report on Sri Lanka is due to be completed on September 21. Some say it will be an early test of Charles Rapp, chosen by Barack Obama to head the office after being prosecutor at the Special Court for Sierra Leone. We'll see.
(For updates you can share with your friends, follow TNN on Facebook, Twitter and Google+)