Executions by Sri Lankan Army To Be Raised to UN's Ban in Norway, a Post Mona Juul Memo "Moral Authority" Test
The video footage depicting the Sri Lankan Army committing summary executions will be raised to UN Secretary General Ban Ki-moon during his impending visit to Oslo, Norwegian Minister of the Environment and International Development Erik Solheim has vowed. On August 26 at a regular press briefing before Ban left New York, Inner City Press asked his Spokesperson Michele Montas if he or she had seen the footage, and for a UN Secretariat comment. There was no response to the video, and so the the link to the video was provided. In the four days since there has been no UN Secretariat* comment.
Later on August 26 at a hastily convened stakeout in front of the UN Security Council, Inner City Press asked August's Council president and UK Ambassador John Sawers about the footage. He said he'd yet to see it but had read about it, and found it disturbing. He said the the UK would expect it to be investigated, by Sri Lanka in the first instance. Video here, from Minute 6:12.
Sri Lanka has condemned Solheim for calling for a UN investigation. But it has not conducted any investigation of its own: its High Commissioner in London issued a denial as soon as the video came out. Is it Sri Lanka's vituperative reaction or something else, observers wonder, that is holding Ban back from commenting on the widely circulated video?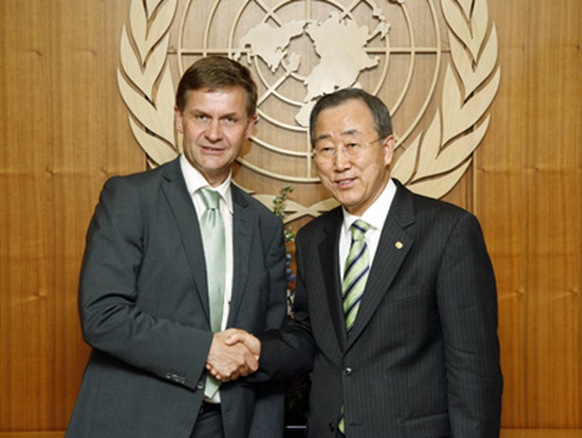 UN's Ban and Solheim, Ban reaction to execution video not shown
This comes in the context not only of The Economist rating Ban three out of ten on speaking truth to power, but the more recent leaked memo by Norway's deputy ambassador to the UN criticizing Ban for, among other things, a lack of moral authority in connection with Sri Lanka and his belated visit there. So what will Ban say and do, when the issue is raised to him in Norway? Watch this site.
Footnotes: Sawers also indicated that no Security Council member had yet requested a meeting about the execution video, just has he'd said no Council member asked for a meeting of any kind about the flooding of the UN-funded internment camps in Northern Sri Lanka. France speaks often about les droits de l'homme; the U.S. has an Office of War Crimes Issues which is preparing a report on Sri Lanka due on September 21. How long will the silence by these UN member states continue?
(For updates you can share with your friends, follow TNN on Facebook, Twitter and Google+)