Prakashraj forgets his own daughter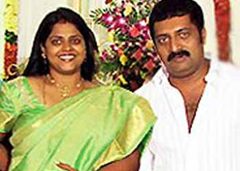 Going by Disco Shanti's talk, one would think Prakashraj is a villain not only in films but in real life too. For the youngsters who do not know who Disco Shanti is, she was an oomph dance item girl of yester years.
Shanti's sister Lalitha Kumari happens to be the wife of Prakashraj. Their difference sof opinion has led them now to the divorce court. Now Shanti is throwing many accusations at Prakshraj.
Her accusations:
"Prakashraj was having a happy family life with my sister but he soon started to change. There were friendships with many women. When my sister was in trouble, I advised that they both should live together, but Prakashraj did not accept it. They are both living separately. My sister is suffering with 2 children. Prakashraj does not do anything to help her. He has even stopped the drinking water supply.
For the past one and half years, I am sending Rs.50,000 every month to my sister. My sister's elder daughter Pooja recently came of age. I made the jewels and conducted the function.
Prakashraj did not attend even his own daughter's function. He spends on so many people. But he does not even buy clothes for his kids, not even for his younger daughter's birthday. I got her a new dress. I have 2 sons. I don't have daughters. I consider them my daughters."
(For updates you can share with your friends, follow TNN on Facebook, Twitter and Google+)