Video, leaked memo bedevil Moon's climate visit to Norway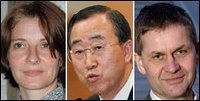 International Development Minister Erik Solheim told Norway's Aftenposten Wednesday that he will discuss the details of the gruesome video showing Sri Lanka soldiers executing naked, bound men, during Ban Ki Moon's Norway visit this week. Meanwhile, the visit occurs while 'The Economist' gave Mr. Moon a failed grade in his UN performance (30%), and a leaked memo by Norway's Ambassador to the United Nations, Mona Juul, accused Moon for being a "passive observer when thousands lost lives and were driven from their homes [in Sri Lanka]," in her mid term assessment of Ban's tenure.
Mr. Ban will visit Svalbard in the Arctic Ocean, as part of his official visit to Norway which begins next week.The visit to the Arctic is part of the Secretary-General's ongoing efforts to push for action ahead of the global climate change conference in Copenhagen, Denmark, where countries will implement a new greenhouse gas emissions reduction pact to succeed the Kyoto Protocol, UN Radio said of his visit.
Solheim commenting on the video to the Norway daily said that dozens of people have been killed or have disappeared in Sri Lanka in recent years, without any form of judicial process or verdict. And there is overwhelming evidence that structures within the state apparatus is behind many of these killings, and added that "he will not be surprised if the footage turns out to be genuine."
"United Nations must address in the investigation of possible war crimes in Sri Lanka. It's something I definitely want to do, even if the purpose of his trip is about climate and environment," Solheim told the paper.
Meanwhile, a leaked diplomatic document, stamped 'strictly confidential,' on 19th August, Mona Juual is likely to further add diplomatic discomfort to Ban's visit. Juul said in the memo, "the UN Secretary General Ban Ki Moon, who was refused admittance by Colombo at the height of the war, chose to accept its invitation as soon as the war was "won."" The diplomat added: "War in Sri Lanka is an example of the weak handling of the Secretary General. He was a passive observer when thousands lost lives and were driven from their homes, the diplomat further said in her mid term assessment of Ban's tenure."
The Economist gave a paltry 2/10 for Moon's Management skills and a 3/10 for "truth to power," saying his quiet diplomacy has failed to yield tangible results.
"After Sri Lanka's war ended, Mr Ban denied that the UN had leaked grim civilian casualty figures (indeed, some UN officials reportedly sought to suppress the toll). That obscured his other responses—such as an appeal to aid the Tamil refugees. With Sri Lanka's government shielded by China, India and others at the Security Council and at the UN Human Rights Commission, human-rights groups had hoped Mr Ban would speak up more for the victims," the Economist cited as one of the reasons for giving Moon a failed grade.
(For updates you can share with your friends, follow TNN on Facebook, Twitter and Google+)