Sri Lanka condemned for jailing journalist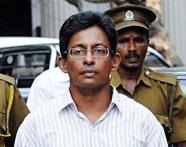 Sri Lanka faced a barrage of condemnation on Tuesday for the jailing of a journalist whose sentencing drew criticism from the US and warnings about censorship from press freedom groups.
New York-based Human Rights Watch urged Sri Lankan President Mahinda Rajapakse to overturn the Colombo High Court order sentencing Tamil reporter J. S. Tissainayagam to 20 years of hard labour.
"The Rajapakse administration should drop the case against this well-respected journalist whose only 'crime' was to express his political views," HRW director Brad Adams said in a statement.
He said the case "furthered the impression in Sri Lanka and abroad that Tissainayagam's prosecution is part of a government campaign of repression against independent media."
After the verdict, US State Department deputy spokesman Robert Wood said that Washington was "disappointed to learn of the verdict and the severity of the sentence."
"We continue to be concerned about the state of media freedom in Sri Lanka. Journalists remain under threat and consequently continue to practise self-censorship," he told AFP in Washington.
In May, US President Barack Obama had cited Tissainayagam as one of several "emblematic examples" of persecuted journalists across the world.
The local media reported the court verdict without editorial comment. Media activists said the lack of public debate about the verdict underscored the climate of fear among local journalists.
Tissainayagam, 45, who contributed to the local Sunday Times and ran a website, Outreachsl.com, was found guilty under the Prevention of Terrorism Act.
He was convicted of receiving money from the rebel Liberation Tigers of Tamil Eelam (LTTE) to fund his website and causing racial hatred through his writings about Tamils affected by the conflict.
Sri Lanka's army defeated the Tamil Tiger separatists in May after nearly four decades of ethnic bloodshed in which the United Nations estimates between 80,000 and 100,000 people were killed.
Tissainayagam was honoured abroad hours after the verdict as the first winner of the Peter Mackler Award for Courageous and Ethical Journalism, named after a 30-year veteran of Agence France-Presse who died last year.
"We are happy to reward J.S. Tissainayagam in 2009, a terrible year for Sri Lanka," said Jean-Francois Julliard, secretary general of the Paris-based group Reporters Without Borders (RSF).
"This country needs journalists who are determined and concerned with finding the truth."
The New York-based Committee to Protect Journalists (CPJ) also announced Monday that it would honour Tissainayagam with a 2009 International Press Freedom Award at a ceremony in November.
"We are announcing this award today to highlight the depth of outrage at this unjust sentence," said CPJ executive director Joel Simon.
Tissainayagam has been in custody since his arrest in March 2008 despite appeals by local and international media rights groups for his release.
He becomes the first journalist to be convicted and sentenced under the Prevention of Terrorism Act which was introduced three decades ago during the early stages of the Tamil separatist campaign.
Tissainayagam's lawyers said they would appeal against the conviction.
(For updates you can share with your friends, follow TNN on Facebook, Twitter and Google+)