At UN, Susan Rice Calls Sri Lankan Executions Disturbing, No Council Session Set, Rajapaksa No Show, HG Error
Three months after the UN Security Council held informal session about the conflict Sri Lanka, the newly released video footage depicting the Sri Lankan Army committing summary execution has not led any Council member, including the United States, to propose that the situation be discussed on the Council agenda. But, U.S. Ambassador and Council President for September Susan Rice told the Press, "these reports are very fresh and that could change." Video here, from Minute 24.
At Ambassador Rice's month-opening press conference, Inner City Press asked her about Sri Lanka, the video, and the critique in the leaked memo of Norwegian Deputy Permanent Representative to the UN Mona Juul that Ban Ki-moon lacked "moral authority" when he made his trip to Sri Lanka, like his visit to Myanmar. Video here, from Minute 21:50.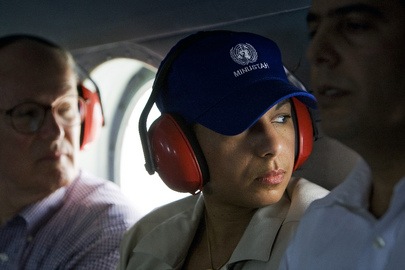 Ms. Rice did not respond about the Juul memo, but said that the video reports are "very disturbing" and "of grave concern," that the U.S. would like more information as it formulates its national response. That is awaited, as is a response to the 20 year jail term for J.S. Tissainayagam, an Amnesty International prison of conscience whom U.S. President Obama on World Press Freedom Day on May 1 called an "emblematic example" of a reporter jailed for doing his job.
Ms. Rice's press conference kicks off a month in which President Barack Obama will come to the UN for the General Assembly session. Sri Lankan president Mahinda Rajapaksa had been scheduled to come along with a large entourage. But reportedly Karuna and others in his party were denied visa. Now, Rajapaksa will apparently not come, leaving the Prime Minister to represent the country.
In the latest speakers' schedule for the General Assembly, which Inner City Press is putting online here, Sri Lanka is listed as speaking on September 26 along with other countries represented at the Head of Government. There is only one problem: the Sri Lanka Prime Minister is not the Head of Government, that is a post that President Rajapaksa holds as well as being Head of State.
(For updates you can share with your friends, follow TNN on Facebook, Twitter and Google+)